The holidays are upon us! And you know what that means: dinners, family and friends visiting, you visiting family and friends, shopping for gifts, party invites, and whatever other holiday celebrations you participate in. It's stressful enough as it is, and dressing for the occasion(s) is a fun challenge as always, but of course you need a little inspiration.
I've made a casual, dressy-casual, and a dressy outfit with this cream and grey patterned cardigan. Neutral colors are a plus, and the pattern is very winter-appropriate. Cardigans are also a fabulous option because it's cold outside but you might be inside at some point. This means you need to have layers to shed so that you won't be freezing and/or sweating.
Tier 1: Casual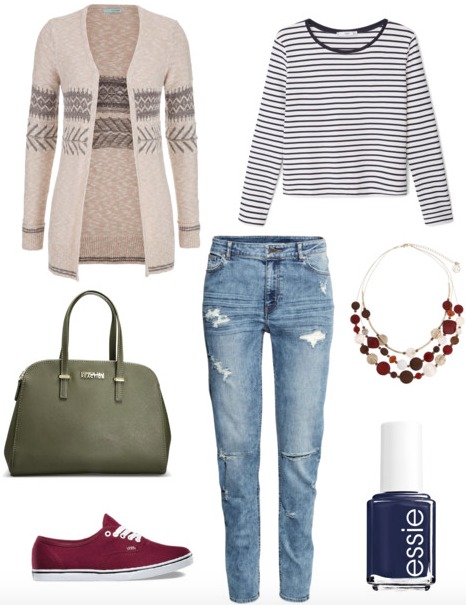 Since this outfit is casual, it's safe to pair it with the ultimate casual closet item: boyfriend jeans! Super comfortable yet adorable, and you can be even more comfortable by making deep red sneakers your shoe of choice for this outfit. Cream, brown, deep red, and olive green will be nice accent colors to accessorize with, and you don't need much since this is our casual outfit.
Tip: You will probably be around family you haven't seen in a while. They will ask you questions about your life, school, what you plan on doing after school, etc., and it's totally ok not to know. But nothing says "I have my life together" like freshly painted nails, so make sure your polish is chip free before any holiday gathering. 

Tier 2: Dressy-Casual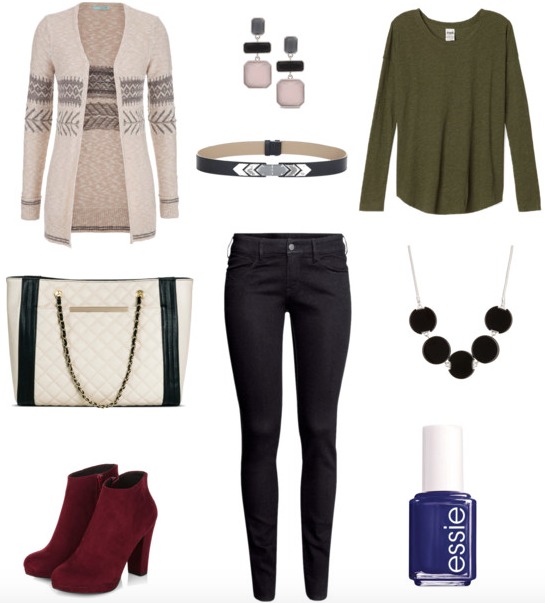 We'll bump it up a notch for outfit #2. Wear an olive green drapey t-shirt cinched at the waist under your cardigan paired with black skinny jeans. Pair your black skinnies with some wine colored ankle booties and accessorize with a statement necklace and some earrings. Ok, I'm completely obsessed with this tote and it goes perfectly with this outfit. Don't forget to touch up your nails!
Tier 3: Dressy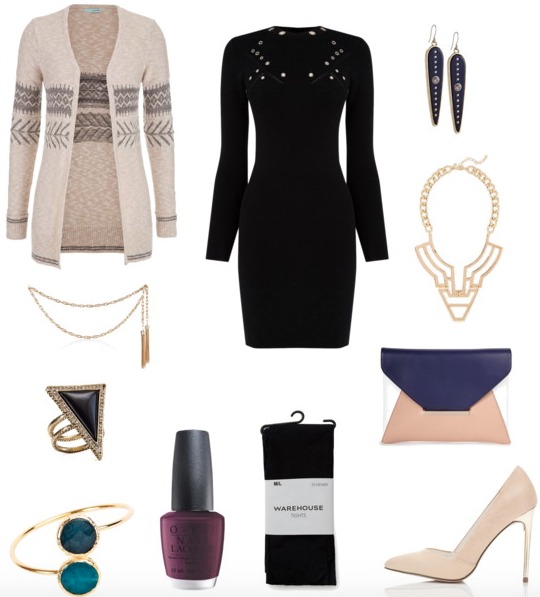 See? You can get a lot of wear out of this thing and you also probably already have a well fitting LBD in your closet. Bringing the cardigan in at the waist with a fancy gold chain or tassel belt might be a good idea if you are wearing a more form fitting dress – it all depends on what dress shape you are wearing. Black tights are a must since it's chilly outside, and nude pumps will go with our "versatile-neutral" look we are going for. Go all out with accessories! A gold geometric statement necklace would be a nice touch. And again, paint your nails!  
I hope you get through all possible celebrations these next few months stress-free (in terms of fashion at least). When in doubt remember the following rules: 1. neutral colors  2. chip-free nail polish  3. layers
What are your plans for these next few months?