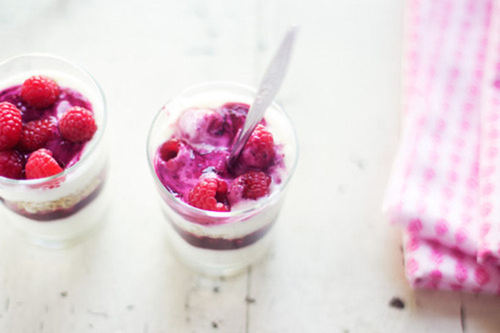 photo credit
Summer snacking is in full swing, but have no fear – there are always healthy alternatives that are easy, accessible, and that can still satisfy your sweet tooth and your salt cravings! All of the following are under 50 calories and are great for between meals or as a light appetizer before sitting down for a regular meal.
For apple lovers…
Cut an apple in half, bake or left plain, and top with 1 tablespoon of low fat yogurt or Greek yogurt. Sprinkle with cinnamon for an extra kick!
Take 4 ounces of applesauce and sprinkle with cinnamon
Cut an apple in half, top with 1 teaspoon of soy butter
For yogurt lovers…
Take 2 and a half tablespoons of low fat or Greek yogurt, pour over half a cup of strawberries
For a creamy indulgence, mix half a cup of fat-free Greek yogurt with one teaspoon of sugar-free jam in a flavor of your choice (blueberry or strawberry works great!)
For a protein-filled snack, mix half a cup of plain, fat-free yogurt with half a cup of sunflower seeds
For veggie lovers…
Try 1/4 cup of edamame with a dash of sea salt
Smear half a tablespoon of peanut butter on small celery stalks
Drizzle one tablespoon of light ranch dressing over half a cup of chopped carrots
One sliced tomato topped with one tablespoon of parmesan cheese, then broiled
Source: Woman's Day
What do you think?
What are your favorite light snacks? Have you tried any of the ones above? Leave us a comment below!