Staring at your closet and got nothing to wear? Maybe you've decided to reinvent your personal style this year, maybe you want to make a memorable first impression. Regardless, your old clothes will not do. But we know you're not made of money, so Every College Girl has put together a list of some of the cutest dresses around, for under $35. Everything from boho to punk to vintage chic, we've got you covered. With all these options for so little moolah, you could start the year with a whole new you! So get plotting and get thinking, who do you want to be this year?
1. Patchwork Print Cami Dress – Forever 21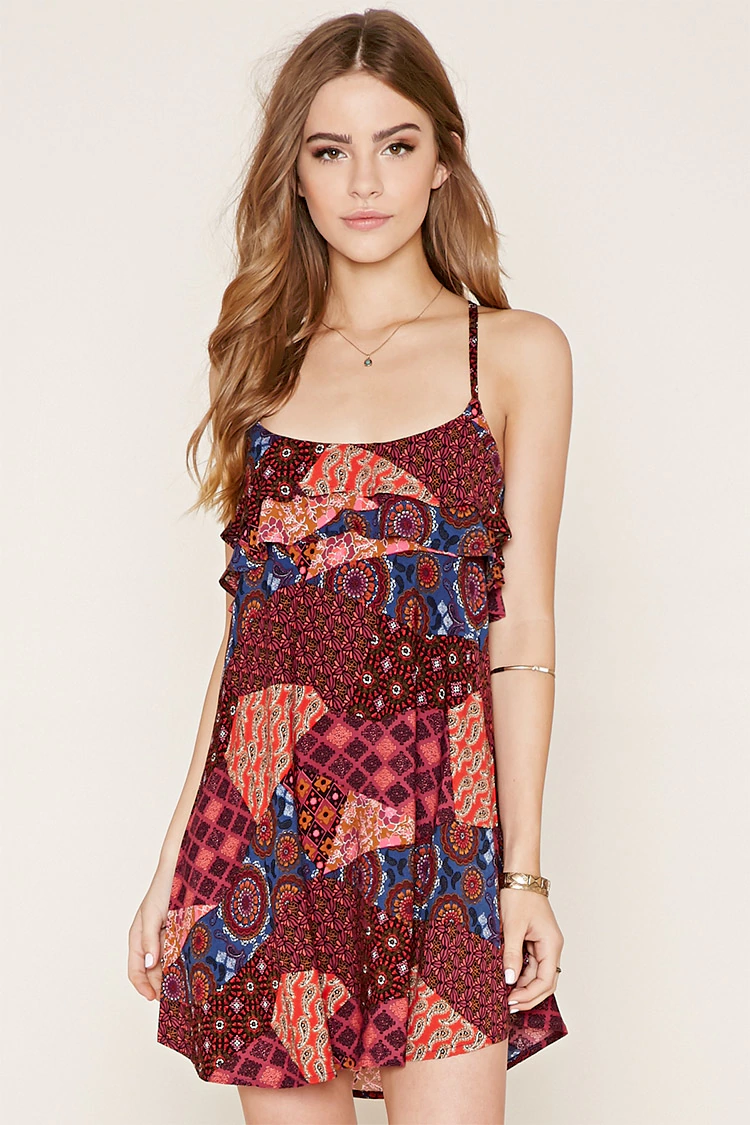 Summer is barely over and we're not quite ready to let it go. This dress brings the spirit of the music festival and with a cute brimmed hat, some big shades, and some hippy dippy sandals you'll be ready to rock and roll. And all this laid back loveliness comes in at only $11.45!
2. Shiny Ribbed Tunic – Zara
Admit it, you want more metallics in your life. There's just nothing quite like making the room sparkle…literally. Check out this dark bronze pleating, Zara's high fashion for low pricing streak continues with this tunic running $25.90. Don some dangerous boots and add a statement pendant and you'll be making a serious splash at school.
3. Black Mock Neck Keyhole Back Bodycon Dress – Lookbook Store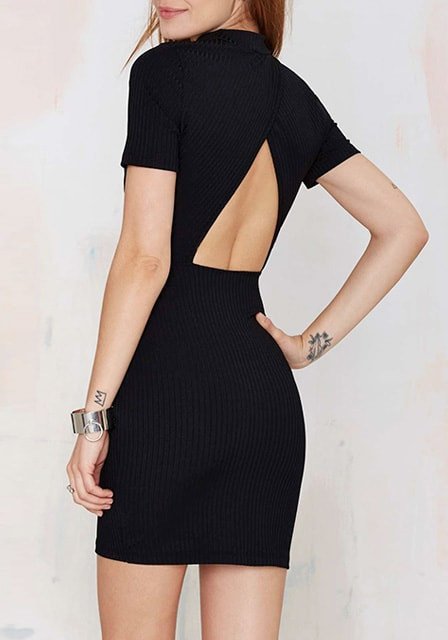 With a simple black turtleneck dress in the front and a high drama geometric cutout in the back, this dress screams New York sophisticate. Cruise the art galleries of Chelsea (or look like that's what you should be doing) for $32. And of course you have to wear a pair of killer heels.
Bringing some exotic flair with a gorgeous print, the often overlooked Nordstrom Rack should never be discounted when it comes to great deals on adorable outfits. In this case they're serving up East meets West with a beautiful pattern in a simple tank-dress design. Wear with some big bangles to highlight the hint of mod, this lovely little dress goes for $26.97.
5. Jumpsuit with Short Legs – H&M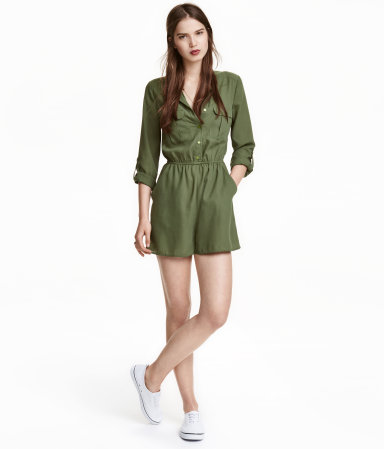 It's time to weather the World War III in this army green jumpsuit. Yes, yes, it's not a dress, but it's getting included because it's super cute, super chic, and has POCKETS. The military flair can be played up with some aviator shades and stomper boots, or down with a straw hat, some leather sandals, and a whole lot of necklaces. Did I mention it has pockets? $29.99.
6. ASOS Midi Cold Shoulder Skater Dress – ASOS
This dress from ASOS is simply lovely. The color is lovely. The fabric is lovely. The drape is lovely. It is wonderfully romantic and should definitely be kept simple, complete with minimal makeup and accessories. The price is even lovely at $29.02.
7. Printed T-Shirt Dress – Zara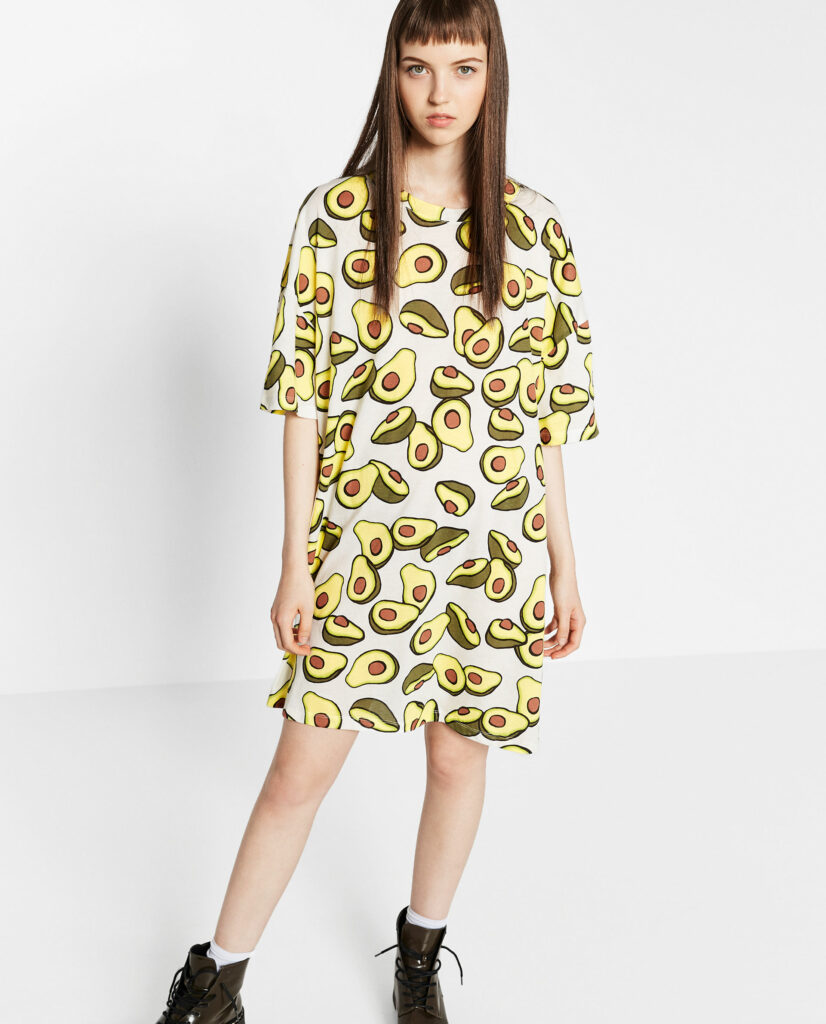 We're returning to Zara because this one is just too ridiculously cute to ignore. Avocados are very on trend, and if you haven't been eating avocado toast you need to get with the times because it is very delicious. To show how hip you are, you simply must display your love of avocados by wearing a dress covered in cartoon avocados. It's simple logic, and not even that expensive (especially compared to avocado toast) at $19.90. Some Chuck Taylor's and brightly colored earrings would play up the fun, and really fashion is all about the fun!
8. Bohemian Irregular Frayed Hem Spaghetti Strap Dress – Rebels Market
When it's time to let a little punk out, this darkly beautiful dress is a great way to do it. It's versatile and with different styling choices could go classic punk, romantic bohemian, or even modern chic. We'd always rather pump up the volume, though, so some black patterned tights and heeled boots would take this from subtle to full on Tim Burton fab.
9. Buffalo Plaid Shirt Dress – Forever 21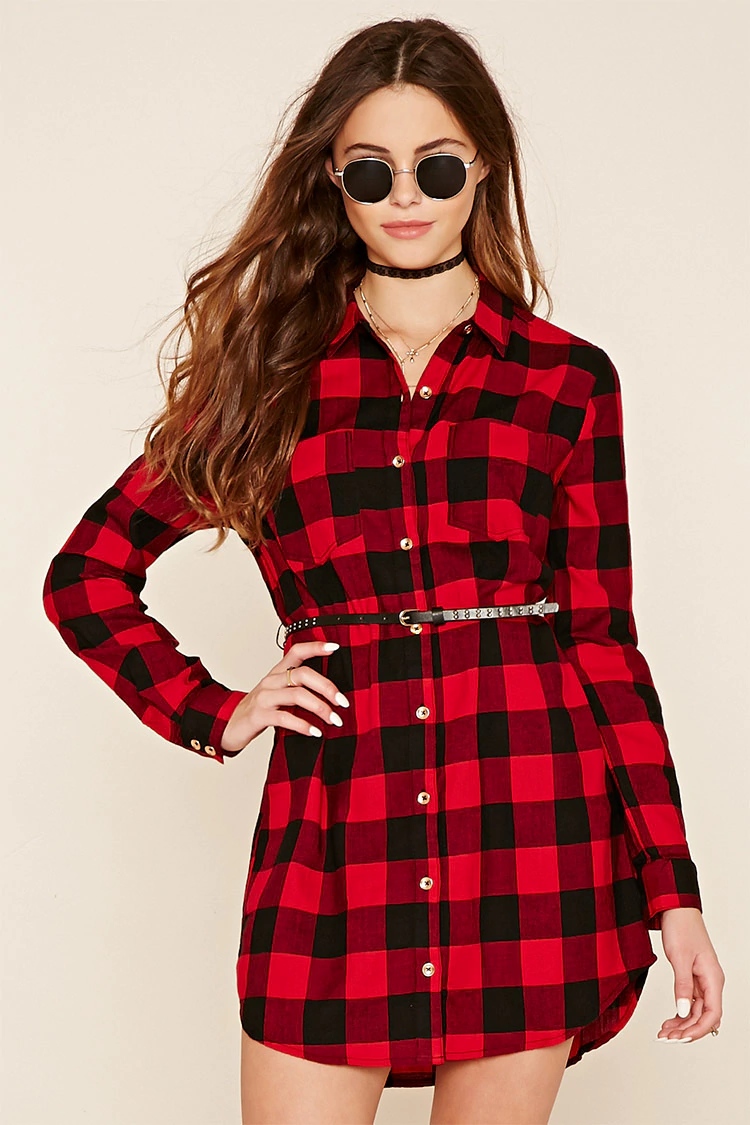 This one's for the tomboys, who wear their flannel proudly! Nothing says laid back confidence like a shirt dress, and you basically don't have to wear anything else with them. The simpler the better. If you can get some tousled waves in your hair and throw on a pair of sneakers or Doc Martens, you're good to go! Forever 21 always keeps it affordable, so this will cost you just $22.90.
10. Women Jacquard 3/4 Sleeve Dress – Uniqlo
If you've never heard of Uniqlo, you will soon. The Japanese version of H&M has arrived in the States and it's not going anywhere. Uniqlo specializes mostly in really well made basics, with a high fashion bent. However their collaborations with top designers have given them a well deserved reputation for being at the forefront of affordable fashion. This Uniqlo dress is strictly for the fashion forward, but its architectural shape and stunning fabric make it an excellent choice for fans of Japanese style, and will give you an instant reputation as a fashion maven at your school. $29.90
11. Polka-Dot Knotted Skater Dress – Charlotte Russe
Zut alors! Vous etes tres chic! With simple black and white and a beachy tie, this dress calls to mind the French Riviera. Keep it classy with a red lip and a big sun hat and very possibly a poodle. Bring a little taste of France to your classroom for just $17.49.
12. Sweet Peony Embroidered Dress – Ruche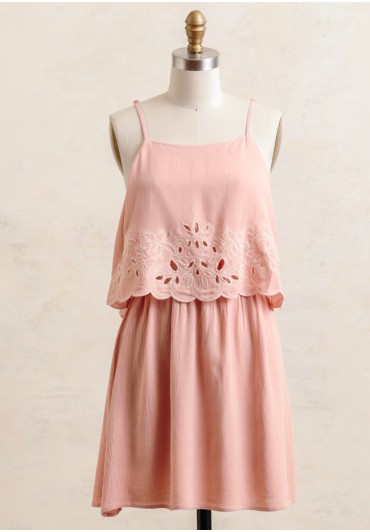 This dress is simple but sweet, a good dress for a summer day and a great dress to make friends in. Ruche is a wonderful substitute for Anthropologie for those who can't afford Anthropologie, and they proved it with the low price tag of $34.50. Pair it with soft, natural accessories and float through your first days of class like a fresh summer breeze.
Time to show off! What did you wear to your first day of school?