When it comes to getting settled in your new dorm room, we all know that desk real estate can get tricky.
Your desk takes on a lot of different identities throughout the week, and maybe even day: the place where you study, write a paper, surf on your laptop, FaceTime friends, and get ready in the morning. Between book, notebook, textbook and note-taking supplies storage, the drawers of your desk can get swamped pretty quickly, not to mention becoming a black hole where things tend to only conveniently resurface after the semester has ended. Plus, why risk tension with your roommate over escalating morning noise from opening and shutting drawers?
The following are three desk-friendly, noise-free, drawer-freeing solutions for your makeup storage that can help you get ready more efficiently – and help you get to class on time!
A sturdy train case
This was my favorite option, the one that I relied on during my two years in dorms. A sturdy train case that can fit under your desk is the perfect way to free up drawer space, and keep everything exactly where you can find it. Sliding it from underneath the desk becomes a start to your morning ritual, and the satisfying clicks of the snaps signal the start to your day – or night out. The other great thing about this solution is that it allows you to take your beauty stash on the go, particularly if you're getting ready at a friend's dorm or off-campus apartment.
A great solution is the 12″ Goddess "Ultimate Train Case" from Caboodles, which you can find at Target for just under $30. I like it because it has four auto-open trays, the last one being deep enough for most foundation bottles to stand upright (and that's important when you get down to those last few coveted drops!), and the top rows easily cradle lip glosses and lip liners without risk of spillage. It also comes with a lock and keys, to keep your roommate's wandering eye at bay.
A spinning organizer
If you went back-to-school shopping at Bed Bath and Beyond you might have seen the spinning cosmetic organizer by Lori Greiner (of Shark Tank fame) that retails just under $40. One of my roommates used this and swore by it, it holds everything from brushes to smaller items like nail polishes and lipsticks. It boasts holding more than 100 items, and it's nice to have all of your products right in front of you and at your fingertips – no more forgetting about that favorite shade of gloss that found its way to the bottom of a bag or drawer!
Acrylic cases
These can be some of the more expensive options, depending on the size you choose, though there are some great options on Amazon and at Target. The nice thing about this option is that you can opt for clear cases, which make organization and application easy since you can see where everything is without having to shuffle things around. Another plus is that you can store larger items more easily, such as perfume bottles or body lotions.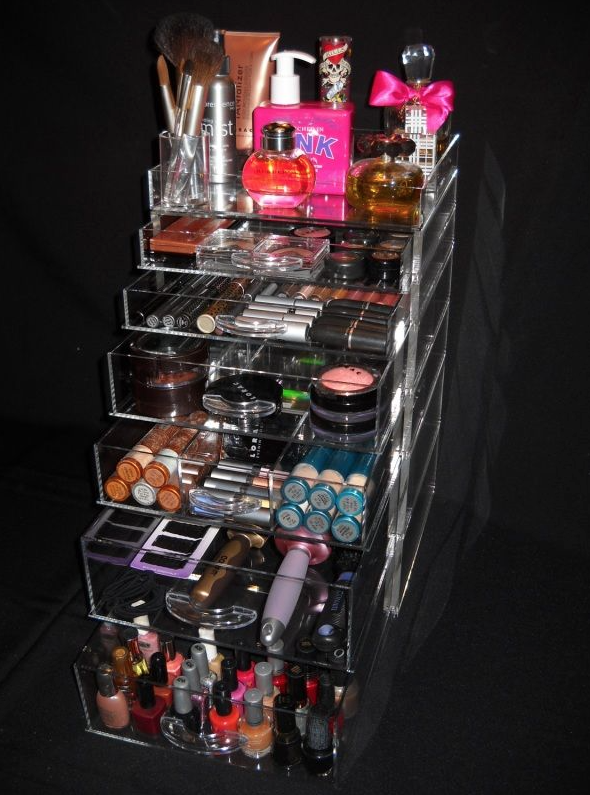 After clothing and school supply storage is taken care of, let's not forget that you don't have to suffer from misplaced beauty products! Try one of the three desk-friendly solutions above to maximize efficiency and minimize that frustrating missing eyeliner pencil.
What do you think?
What's your favorite way to keep your beauty supplies organized in your dorm room? Let us know in the comments section below!