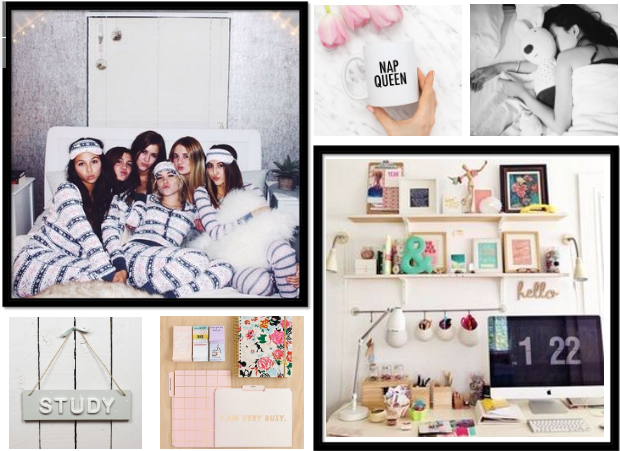 On my first day of college as a nervous, awkward freshman, my professor told me "Social life, good grades, sleep … Pick two." These are probably three of the most crucial necessities in a college student's life that are nearly impossible to juggle all at the same time. You decide to go out on a Thursday night … and bomb your 8am calc quiz. You decide to stay in and study … and have to overcome your FOMO as you repeatedly watch your friends' snap stories over and over. So how do you manage all three?
Like most things in life, college is all about balance. Except this is the first time in your life Mom and Dad aren't there nagging you about what to do – so you need to figure it out for yourself! By following these three steps, you should be able to manage just fine.
1. Plan nights to stay in with your friends
Girls nights in with your roomies can be just as fun as a drunken Thursday out at the bar – all you need is a bottle of wine, your favorite late night munchies and Netflix. After all, what girl doesn't love movie nights in with their besties? (Or binge watching the newest season of OITNB?) We all need time to unwind after a long week, but mixing in these kind of nights allow you to get to bed (hopefully!) before 3 a.m. and catch up on the latest gossip with your girls.
2. Designate study time on weekends
It's Friday afternoon, you've got a hot date with that rugby player tonight and nothing due until next Tuesday – but your semester project is due in three weeks and you haven't started yet. I think we've all been here, and I'll admit I'm the last person who wants to go to the library on a Saturday. It's so easy to let procrastination get the best of you in college, especially when all your friends are going to that random day drink across campus… But you don't want to be that person doing their entire semester project the night before it's due. You've worked hard to secure that B- all semester so why are you going to let it suffer? As much as you want to relax this weekend, set aside a few hours each day to hit the books. Even try studying with friends for a few hours so none of you will be missing out – just make sure you can actually get some work done!
3. Naps on naps on naps

Enjoy them while you can because college is one of the last time's in your life where you'll be able to take a casual 3 hour 'cat nap' on a Tuesday afternoon. Studies show that lack of sleep effects our mental and physical health, our GPA, and our safety – and let's face it, who really wants to be around you when you're that grumpy anyways? As much as our families and professors will argue, sleep matters! But instead of a 3 hour nap, maybe an hour will due.
College is one of the most exciting times in your life – new home, new friends, and a new way of living. It's important to adapt to these changes and keep your responsibilities in line. But that doesn't mean you can't have a little fun, too. ☺
What can you add?
How do you stay sane while balancing a social life, sleep, & school? Let us know in the comments section below – we love receiving comments!