As we approach the birth of our nation, every Canadian college girl has one thing on her mind: how can I show my Canadian pride and look cute at the same time? Don't worry, we've got you covered here at Every College Girl. While every other fashion blog is busy worrying about the fourth of July, we've got three cute looks to keep you stylish on the first of July, while sporting that Red and White with pride!
Look 1: Day at the Beach
Yes, we have beaches in Canada. In fact, we're blessed with an abundance of both fresh water and, of course, salt water beaches across the nation. If you're lucky enough to find yourself soaking up the sun and sand this Canada day (or just lounging by the pool), this outfit will keep you looking festive and cute while you stay cool in the water and work on your tan. This mix and matched bikini not only shows off your true Canadian colours, but pairing the white bottoms with the bold red top will draw attention away from any trouble areas and up towards your pretty face! The red dress is the perfect cover-up to throw on if you're grabbing a bite to eat or it starts to get chilly (as it so often does in Canada). The simple accessories add a punch of flare without being too bothersome for a lazy day by the water.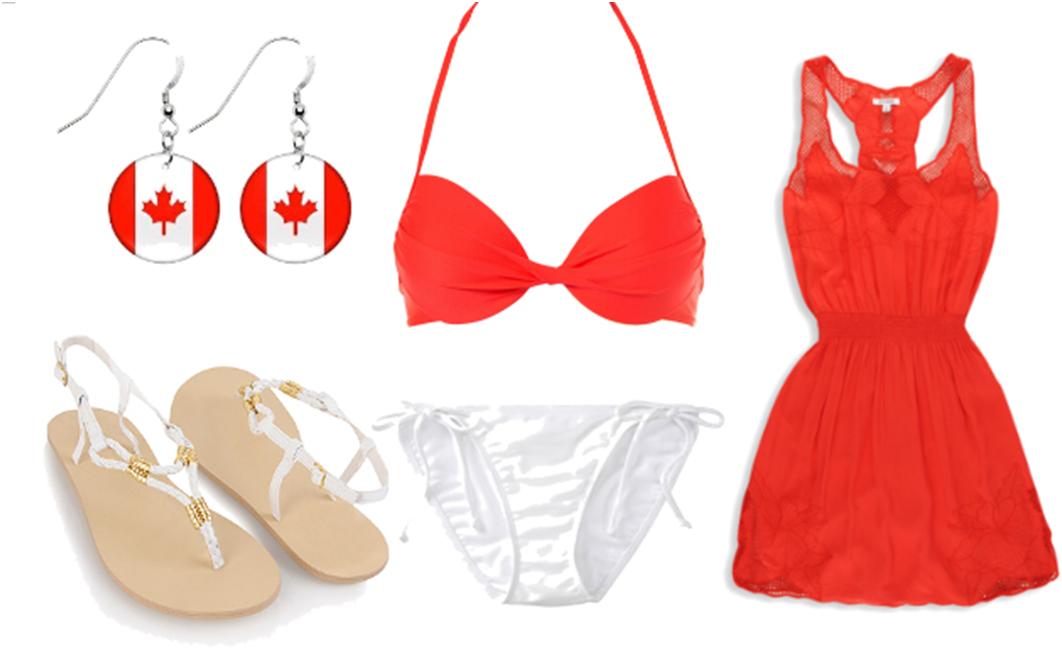 earrings, sandals, bikini top, bikini bottoms, dress

Look 2: Family Barbecue
Having a bbq with family and friends is such a classic way to spend Canada Day. For this look, I paired this cute ruffled top with these simple white shorts. The top is so interesting that you really don't need to have a lot else going on, so I just added this cute ring, some comfy Canadian moccs, and a fun glitter temporary tattoo for the kid in all of us.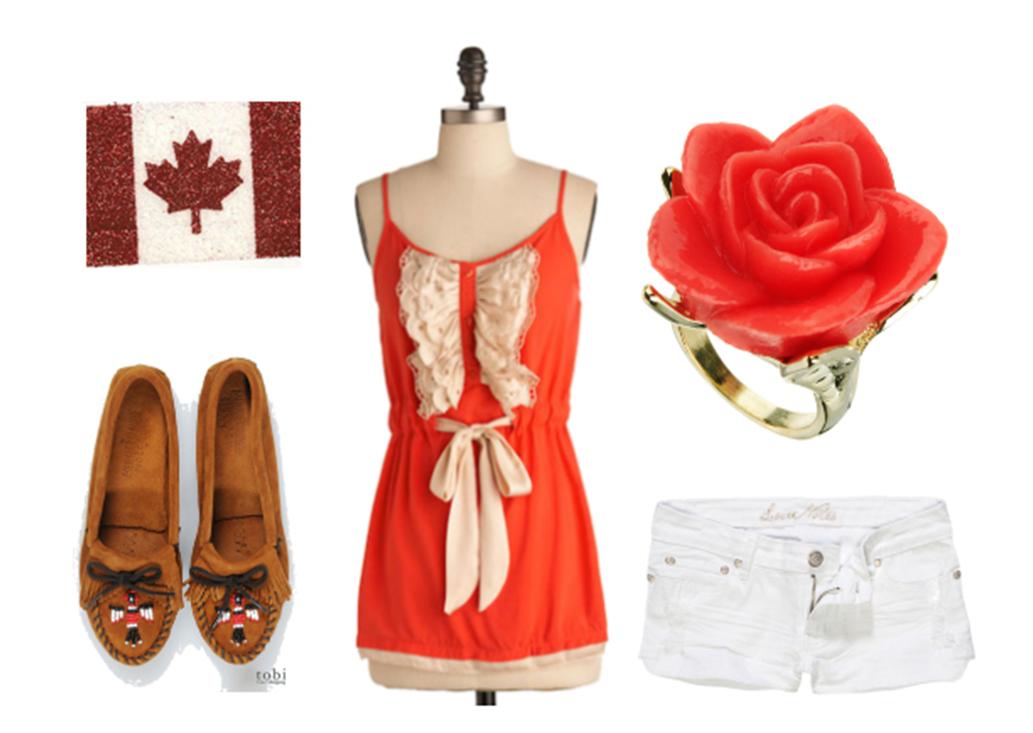 Glitter tattoo, moccasins, top, ring, shorts

Look 3: Fireworks
The perfect way to end Canada Day is to snuggle up with someone cute (like your boyfriend, best friend, or dog, perhaps?) under a blanket and watch a fireworks show. For this look, I took into account the fact that the temperature can sometimes drop dramatically at night, even in summer, especially in more northern parts. These slouchy bootcut jeans are a comfy cozy way to warm up, and look great with this cute, soft tee. The hoodie is simple, while still coordinating and adding some extra warmth, but if you're still too chilly this classic blanket should do the trick (ok, so it's $300, but chances are you have one hidden somewhere in your house already, if you're a true Canadian girl).
Blanket,tee, jeans, hoodie, sneakers

What Do You Think?
What are your plans for Canada Day? Have you decided what you will be wearing? How about our American readers, what are you doing/wearing for Independence Day? Leave me a comment and let me know! And a very Happy Canada Day and Independence Day to all our readers!