I know it's summer, but some college girls with jobs (like me), are spending a lot of time indoors working in an office. What's a great way to spice up the office a little? With an simple, yet adorable high waisted skirt, of course! And even if you're not working in an office now, these outfits would be great for interviews and any events where you may try to network with professionals in your industry.
Look 1: Casual
Stay cute and casual by sticking with a simple tank and practical flats. Keep your arms warm and office-appropriate with a cute sweater. Finally add this adorable rose bracelet to play up the flower detail on your sweater. This outfit is a great relief from a slew of boring khaki and black pants work ensembles.
skirt, flats, sweater, tank, rose bracelet
Look 2: Business Professional
This is the ultimate "dress for the job you want to have" or at least "dress for the job you think they want you to want" outfit. Perfect for making that first impression with the big wigs. Mix and match with your skirt and blazer, but make sure the colors coordinate well (no dark navy blues and black!). Play up work legs a bit with flattering, nude tights and nude pumps which will make your legs seem even longer.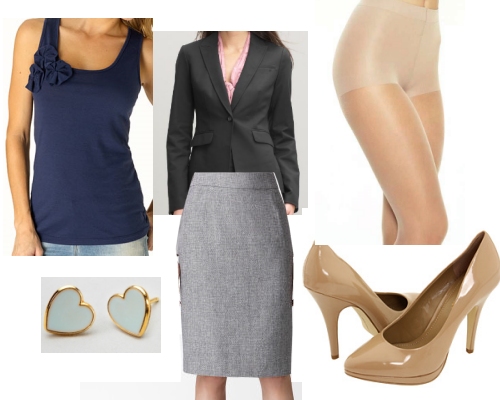 skirt, blouse, blazer, pantyhose, heels
Look 3: Trendy, Upscale Office
Just thinking about this outfit makes my heart flutter. My initial concept for this outfit was very trendy, but as I pieced it together it became more classic and girly. Pairing the delicate, lace top with the black, edgy heels is a great contrast. Finish the outfit with fun subtle tights, a cute sweater, and a fun necklace.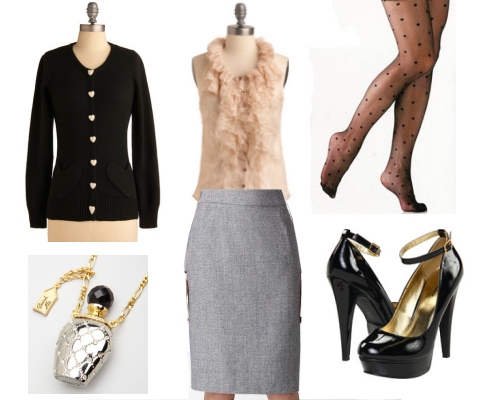 skirt, blouse, necklace, heels, cardigan, tights
What Do You Think?
What do you like to wear to the office? Today or in the future? Leave us a comment and let us know!