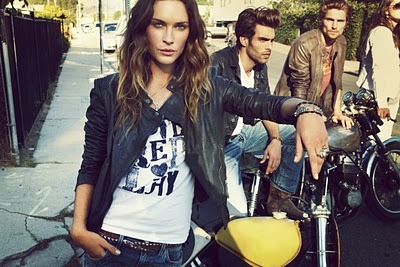 If you haven't jumped on this trend yet, this spring is the perfect time to give this look a try. You're going to see tonnes of biker-chic, tough girl, punk-inspired trends this spring, so bringing a little bit of a rough look to your wardrobe with grungy boots is a great start. Balancing it out with some feminine frocks and tops takes your look from grunge to
glam, like these three looks:
Look 1: Off to Class
Kick ass on your way to class with this perfect spring transition look. This ultra-girly blouse is light and flirty enough for spring, but the long sleeves make it warm enough to wear a little earlier in the season. Tucking skinny jeans into your boots will really let them take centre stage, and the feminine necklace and bag make the look balanced. Finish the look with some rocker-chic aviators, to keep the boots from looking completely unexpected.
Aviators, bag, blouse, jeans, necklace, boots
Look 2: Lunch with the Ladies
It's Rachel Berry meets Agyness Deyn in this lovely daytime look. A little rough and tough, a little sweet, and a whole lot stylish. The floral and crocheting on the dress is a double-whammy of spring time style. If you check ECG often, you know I love tights, but this polka-dot pair adds a little extra splash of cute, especially against the motorcycle boots. The cardigan adds some warmth, and the leather jacket pulls the look together while the bag adds some old-school charm.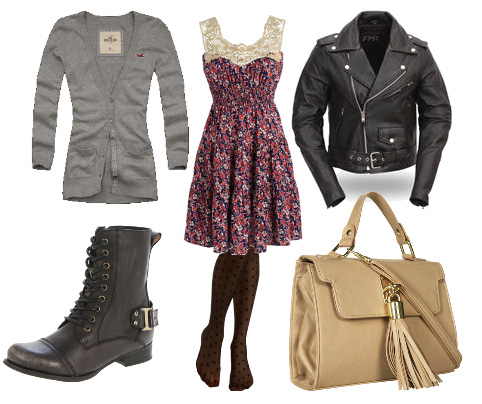 Cardigan, boots, dress, tights, jacket, bag
Look 3: Night on the Town
You might feel uncomfortable at first swapping your sexy heels for clunky boots for a night on the town, but with the right accessories your look will be badass and sexy. Plus, you'll love not have sore tootsies at the end of the night. While the dress is your typical show-stopper, night-out frock, and the black tights keep the look classy, the rocker headband, necklace, and studded gloves give you a bad-girl edge that's ultra sexy. Wear this look with confidence!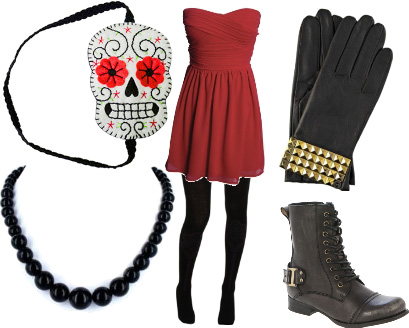 Headband, necklace, dress, tights, gloves, boots
What Do You Think?
Think you will rock biker boots this spring? Which look is your favourite? Leave us a comment and let us know!