A soft, fitted, girly plaid shirt has been a fashion staple for a few seasons now. As we approach the end of summer, I thought it would be fun to take this look 3 ways so you can wear it now as well as when the weather starts to cool off.
Look 1: Dog Days
While it's still hot and muggy out, soak up the most of summer by rolling up your sleeves and leaving the shirt unbuttoned. Pair with some summer staples, like a bikini top, denim shorts, and sandals. Mix it up with a casual, white tank and some adorable tiny studs. Keep it cool and casual so you can spend more time in the sun and less time fussing with your look.
Earrings, Tank, Shirt, Shorts, Bikini Top, Sandals
Look 2: Back to Campus
If you're anything like me, you're anxious to try out some fall looks even if it's not that cool come September. This look keeps you from going overboard and overheating, but lets you play with some fall trends. Tuck your rough and tough top into a grey skirt with ruffle details, and pair with a preppy set of knee highs. Finish with a great pair of embellished flats and some girly accessories to pull the whole look together.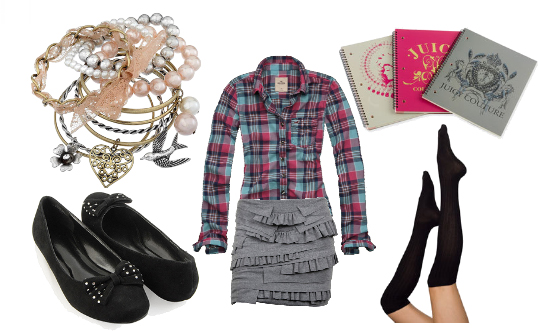 Bracelets, Flats, Shirt, Skirt, Notebooks, Socks
Look 3: Winter Wind
To keep this look fresh and keep you warm, the key is layering. Top yourself with a cool studded leather jacket, add some black skinny jeans, and a chic pair of tall riding boots. Soften the look by adding some winter white legwarmers peeking just above the top of your boots and a sweet headband for a look that is modern but fuctional.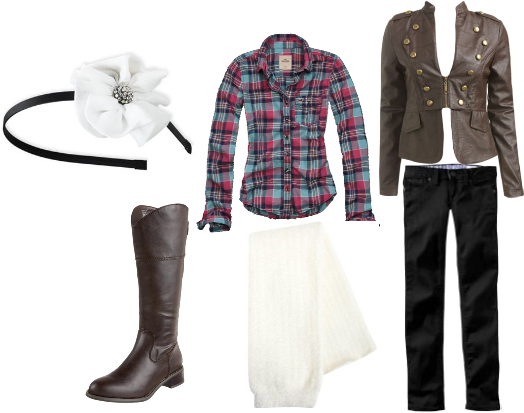 Headband, Boots, Shirt, Legwarmers, Jacket, Jeans
What Do You Think?
Is a plaid shirt a good transition piece? Which look do you like the best? What would you add, or take away? Leave a comment and let me know!