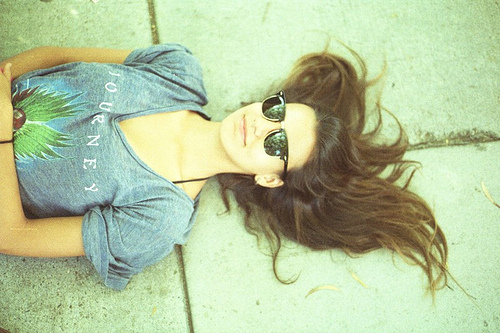 photo credit
When it comes to summer we've talked sun dresses, nail polish, and just about every other essential accessory known to woman – except one. Sunglasses! What would summer be without a cool pair of shades for driving around with your windows down, lounging by the pool or the beach, or engaging in your other summer activities. Read on for four pairs that will spice up your summer look.
As a rule of thumb, when it comes to choosing the right pair for you personally, always go for a shape that is opposite of your face shape. For example, if you have a very square shape go for a very round pair of sunglasses, and vice versa.
The original Ray-Ban Wayfarer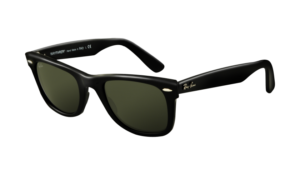 Obviously. What's not to love there? These shades aren't just for summer, they're classic and go with almost any outfit in every season. The strong, straight lines are a great way to accent almost every face shape. Disclaimer, they can be expensive, retailing for about $150-200, but Ray-Bans make a great investment pair because of their longevity, timelessness, and versatility.
Cream-colored oversized sunglasses
photo credit
Channeling the old Mod style, these cream shades are an updated look that will have you looking glowing without looking like you're trying to hard. Normally oversized sunglasses can be tricky because, depending on the size of your face, they can channel a bug more than glamour. But this cream pair is more soft and subtle, and will compliment the sand and sun tones as you walk on the beach! And who can argue with their $50 price tag?
Striped wayfarers from Forever 21
For a cheaper and more detailed look of the Ray-Bans from above, this striped pair retails for about $5.80 and you still get all of the benefits from the wayfarer shape, which compliments most face shapes. Plus, the striped look is unique and fun for summer, when it's the season for making bold color and print choices.
Round sunglasses
For a fashion-forward girl who isn't afraid to be bold, a round pair of shades is a great way to go for a fresh summer look. The Olsen sisters have been seen rocking this trend for awhile, channeling a John Lennon vibe. To be successful with this shape, the more square your face is and the more pronounced your bone structure is, the better. This pair retails for about $12.
What do you think?
What is your favorite pair of sunglasses? What are your favorite looks for summer? Let us know below in the comments section!