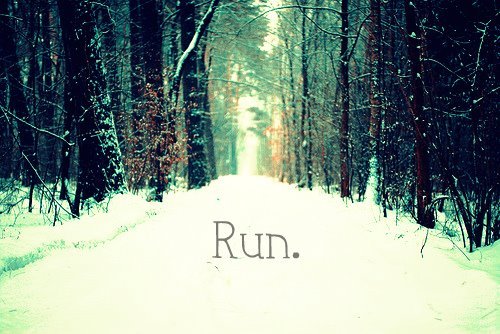 photo credit
If you're like me, treadmills can be likened to hamster wheels and can kill your knees after awhile. The obvious solution: run outside. But what happens when you roll over in bed to a winter wonderland outside your window? Read on for ways to keep your outdoor running routine alive despite the cold weather.
Treat your feet. To avoid cold feet on your winter runs opt for extra ventilated shoes with warmer socks. This will keep your feet warm without sacrificing comfort. Also, be wary of icy terrain and aim for snow that has been packed down for better traction. Ice patched can be camouflaged by freshly fallen snow. If there is too much ice on the sidewalks, stay in and don't risk your safety.
Use a scarf to avoid painful breathing. One of the caveats of running in the cold is that sometimes it can hurt to breathe after awhile – but have no fear, studies have shown that even running in temperature below zero does not actually harm your lungs. The actual pain is produced from irritation of breathing in cold air directly. Wearing a scarf and breathing through that should dull the sensation, or you an also opt for a ski mask.
Always follow the beaten trail. If it has snowed recently, always follow a plowed path to ensure stable footing. Be especially wary of black ice. The goal is to find a well-lit sidewalk that has been plowed and make sure you slow your pace down to anticipate random ice patches.
Be realistic. When you're judging whether you should run outside or not, come from a clear conscious. Don't listen to the voice that manically needs to get a workout in. If there is simply too much ice, take your workout inside. If you push yourself and make a bad judgement call you could face an injury that could put you out for weeks, so be smart about the terrain.
What do you think?
Do you run outside? What are your favorite tips for running in the winter? Share with us in the comments section below!