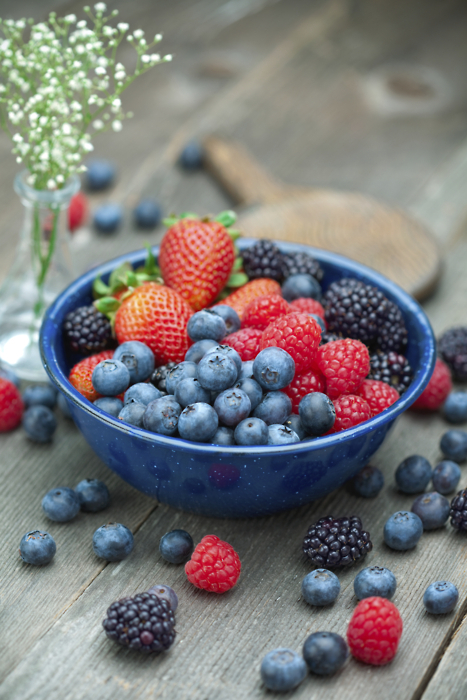 photo credit

We've all been there – you just got back from class, or it's late a night, or you're in between meals, or maybe you just got done witha workout, and all you can think about is snack time. Instead of reaching for an unhealthy option just because it's handy, try one of these delicious and healthy alternatives.
Frozen grapes and berries
Pop a bag of blueberries, grapes, or any type of your favoirte berry into the freezer and you're free to enjoy in a moments notice. Frozen grapes and berries are great because they're healthy, hydrating, filled with antioxidants, and can even taste like ice cream if you froze them when they're ripe enough. Not to mention, frozen fruit keeps for longer!
You can even mix it up and throw a mix of berries and grapes into a freezer bag and freeze together. These berry freeze packs can also be incorporated into a smoothie!
A whole wheat Eggo waffle with peanut butter and banana
This is a classic with me and my roommates, tasty, easy to make, and guarenteed to satisfy. Whole wheat eggos are low cal, and ready in minutes. Toast the eggo, spread on some peanut butter, and top with banana slices for a great snack that will tide you over! High in protein, whole grains, and potassium, this is a great snack for before or after a workout, or at the end of a night out.
Nuts
Almonds, cashews, peanuts – all great and healthy options for a light snack! They're great because they're packed with protein and curb hunger almost instantly, so you'll get all the nutrition you need without over eating.
Anything citrus
This time of year it's never a bad idea to grab a little extra vitamin C. Clementines and oranges are great options, because they're light, easy to eat and store in your purse for a snack on the go.
Granola with dried fruit
A healthier take on trail mix, granola clusters with dried fruit is a great snacking alternative. It's light, healthy, but curbs hunger because it's high in protein from the granola and filled with antioxidants from the dried fruit. A lot of healthy brands like Kashi sell the yummy combination in box cereal or cereal bar form, so it's easy to store in your dorm or apartment as well as take with you on the go.
What do you think?
What are your favorite healthy snack options? Add to our list in the comments section below!