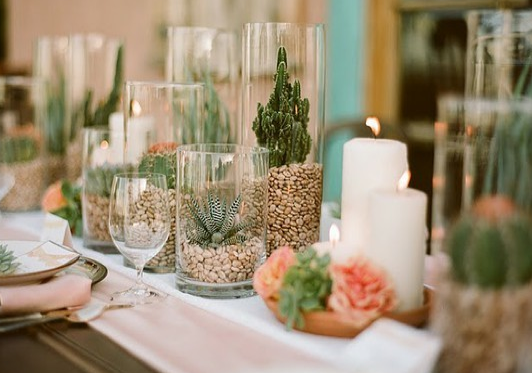 photo credit
As college girls we know how important the aesthetic of our space is. College is naturally disposed to promote anti-space: communal bathrooms, roommates everywhere, common rooms. So whatever space you can claim as truly your own, claim it by filling it with beautiful things that reflect your own style. Even if you live in a dorm where candles aren't permitted, a vase with a cute filler is a great option to add a little ambiance without breaking the bank.
Rocks painted with chalkboard paint
photo credit
A spin on the classic river rock vase filler, chalkboard rocks are a great way to make a statement in a unique way. Chalkboard paint can be found at any local hardware store, and there are also some great DIY chalkboard paint recipes floating around online. Simply paint the rocks and then write your own little message – reminders, quotes,  drawings, whatever you want. Also a great idea for halloween!
Mix and match rock textures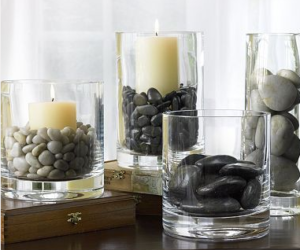 photo credit
If you love river rocks but want to spice them up a little, simply add more texture. River rocks come in all different colors and sizes, so mix and match! The different shades of grey are also a great compliment to any room, as they'll stand out without clashing against any other colors you have incorporated into your space.
Wine corks
For a sophisticated take on vase decor, add wine corks into the mix. If you incorporate candles into this, just make sure there is a separate holder in the middle so that the corks can surround the candle without any fire risk. Water is also a great addition if you want your corks to float around by the candle. If you want to personalize your cork fillers, write the date or occasion on each one for that particular bottle of wine – an anniversary, a birthday, or a girl's night.
Mix and match shells
photo credit
If the beach is more your thing, add a little flair to the old shell routine by adding some different textures and colors. Layering with sand is also an option. Who says you can't bring a little of the beach to school with you? If you have  a favorite beach or a beach at home, bring a little sand or some shells you've collected and turn them into home decor for a taste of home in your college room.
Glitter fruits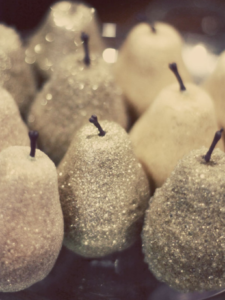 If you like the home-style feel of faux fruits as a vase filler, why not add a little glitz and make your own glitter fruit? Simply take little plastic fruits, cover them in a light layer of glue, and roll them around in glitter or epsom salts. This is a great vase filler for the glam girl who likes a cozy feel while still getting to be artsy!
What do you think?
What is your favorite vase filler? Do you have any favorite home decor tips? Leave us a comment below!