Going off to college can be hard. Leaving behind your familiar surroundings, your friends, and your family can make you homesick, and that's ok! Making new friends is part of the process and you'll adjust to your your new living situation. You might be struggling with separation anxiety from your dog though. Why couldn't he just come to college with me? Here are some sweet, page-turning, tear jerking, funny, and all around good books to look at or read when you are missing your favorite fur child.
1. The Art of Racing in the Rain by Garth Stein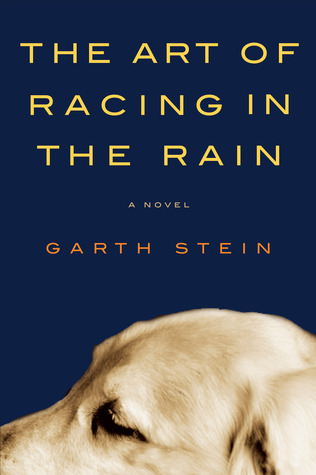 "Enzo knows he is different from other dogs: a philosopher with a nearly human soul (and an obsession with opposable thumbs), he has educated himself by watching television extensively, and by listening very closely to the words of his master, Denny Swift, an up-and-coming race car driver.
Through Denny, Enzo has gained tremendous insight into the human condition, and he sees that life, like racing, isn't simply about going fast. On the eve of his death, Enzo takes stock of his life, recalling all that he and his family have been through.
A heart-wrenching but deeply funny and ultimately uplifting story of family, love, loyalty, and hope, The Art of Racing in the Rain is a beautifully crafted and captivating look at the wonders and absurdities of human life…as only a dog could tell it."
I love how this is told from a dog's point of view. So cool!
2. Underwater Dogs by Seth Casteel
"In more than eighty portraits, award-winning pet photographer and animal rights activist Seth Casteel captures new sides of our old friends with vibrant underwater photography that makes it impossible to look away. Each image bubbles with exuberance and life, a striking reminder that even in the most loveable and domesticated dog, there are more primal forces at work. In Underwater Dogs, Seth Casteel gives playful and energetic testament to the rough-and-tumble joy that our dogs bring into our lives."
You may have seen some "Underwater Dogs" pictures floating around the internet. Great book to flip through when you need a distraction from missing your own!
3. The Genius of Dogs: How Dogs Are Smarter Than You Think by Brian Hare and Vanessa Woods
"In the past decade, we have learned more about how dogs think than in the last century. Breakthroughs in cognitive science, pioneered by Brian Hare, have proven dogs have a kind of genius for getting along with people that is unique in the animal kingdom. This dog genius revolution is transforming how we live and work with our canine friends, including how we train them. Does your dog feel guilt? Is she pretending she can't hear you? Does she want affection—or just your sandwich? In Th­e Genius of Dogs, Brian Hare and Vanessa Woods lay out what discoveries at the Duke Canine Cognition Lab and other research facilities around the world are revealing about how your dog thinks and how we humans can have even deeper relationships with our best four-legged friends."
For when you want to learn a little more about your four legged friend.
4. A Dog's Purpose by W. Bruce Cameron
"Heartwarming, insightful, and often laugh-out-loud funny, A Dog's Purpose is not only the emotional and hilarious story of a dog's many lives, but also a dog's-eye commentary on human relationships and the unbreakable bonds between man and man's best friend. This moving and beautifully crafted story teaches us that love never dies, that our true friends are always with us, and that every creature on earth is born with a purpose."
Also told by a dog's point of view. I just finished reading it and it's one of my favorite's right now! I have not read the sequel, A Dog's Journey, yet but I intend to.  
5. Following Atticus: Forty-eight High Peaks, One Little Dog, and an Extraordinary Friendship by Tom Ryan
"After a close friend died of cancer, middle-aged, overweight, acrophobic newspaperman Tom Ryan decided to pay tribute to her in a most unorthodox manner. Ryan and his friend, miniature schnauzer Atticus M. Finch, would attempt to climb all forty-eight of New Hampshire's four thousand- foot peaks twice in one winter while raising money for charity. It was an adventure of a lifetime, leading them across hundreds of miles and deep into an enchanting but dangerous winter wonderland. At the heart of the amazing journey was the extraordinary relationship they shared, one that blurred the line between man and dog.
Following Atticus is an unforgettable true saga of adventure, friendship, and the unlikeliest of family, as one remarkable animal opens the eyes and heart of a tough-as-nails newspaperman to the world's beauty and its possibilities."
Need a little more adventure? This book has you covered, and it's extremely inspiring.
Bonus: My Dog: The Paradox by Matthew Inman
"The original My Dog: The Paradox comic re-drawn in color and presented beautifully inside a hardback book. It's similar to one of those keepsake books you see during checkout at retail bookstores, except instead of overused clichés about being happy it's full of jokes about my dog humping things and pooping everywhere."
This one is just an online comic on The Oatmeal that you can read for free, but there is a book you can buy if you'd like to have a copy. I highly recommend reading this comic if you are having separation anxiety, or even if you aren't. It's really, really funny.
Sometimes you need a good laugh or even a good cry to get it all out. My Dog: The Paradox truly does make you laugh if that is what you're looking for. Pick up one of these at the library if you're missing your fur friend this week.
Have you read any of these? What do you think if you have?