photo credit
I know Halloween is a popular holiday, especially for college girls, but rather than lament over the end of yet another festive weekend, why not focus on a few things we probably won't miss about all hallow's eve:
Slutty Costumes
Ever since we heard Lindsey Lohan utter her famous definition of Halloween in Mean Girls, the door has been burst open on the trend of young women dressing in little more than lingerie and passing it off as a Halloween costume. I'm all for dressing a little sexy, but I feel a lot of college girls cross the line and end up checking their integrity at the door. Plus, can't you be more creative than a sexy bunny or school girl? Maybe I'm being prude, but when I go out on Halloween I don't feel like having my eyes subjected to every girl in my feminist lit class hanging out of a bra, panties, and six pounds of eye makeup. Thank goodness the one night of shamelessness is behind us, and I can look forward to seeing my lady peers in parkas and UGGs for a few months.
Scary Movies
Okay, I actually love scary movies. I'm the kind of person that likes to be entertained, and get a reaction from a movie, so comedies and horrors top my list. I love the availability of horror films at this time of year, for the most part, and being able to cuddle up with my boyfriend on Halloween and watch a scary flick. However, flipping through channels in my apartment alone at night for the last few weeks have led to some awful nightmares and looks over my shoulder. I will be happy now that I can go back to watching cheap rom coms at midnight as I fall asleep, instead of slasher flicks!
Candy
Confession: I have a sweet tooth. Like, an I-get-cravings-in-the-middle-of-the-night-for-Reese's kind of sweet tooth. The abundance of conveniently pre-packaged single serving treats, mixed with the built-in excuse of Halloween for buying 3 lbs of chocolate, makes my sweet tooth very happy. However, it does not make my body, or scale for that matter, very happy at all. Perhaps if I showed a little more self restraint, Halloween wouldn't be a problem, but unfortunately it is only with the end of Halloween, and the grocery stores emptying their shelves of candy, that I am free from temptation.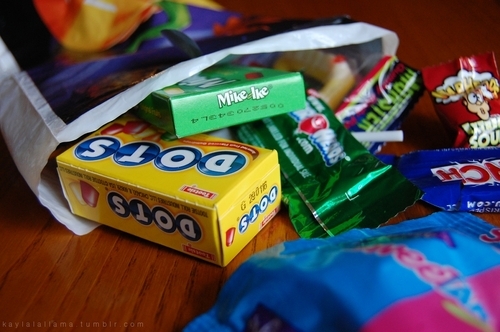 photo credit
Fear of Tricks
I was a good kid, when I went trick or treating, there was no trick involved, even to the little old lady who gave out apples instead of Snickers bars. However, not every child has the same mentality, and as a car owner, I feel much safer driving through the suburbs now that I know the threat of having eggs, and possibly even pumpkins, fired at my personal property has now subsided. I can't imagine my anxiety someday when I actually own a house, I'll just have to remember to invest in some serious insurance: name brand candy.
Christmas
I know in the states you folks still have your Thanksgiving to plow through, but up here, once Halloween is under our belts, it's clear sailing straight through to Christmas. Christmas is easily one of my favourite holidays, not to mention the fact that my birthday falls just three days prior. Even if you don't celebrate Christmas, who is going to object to time off from school or work? I somehow managed every senior college student's dream of landing a total of 0 Christmas exams, meaning I'll be home free from December 8 until New Year's. Believe me, the count down is on.
What Do You Think?
Do you love Halloween? Hate it? What will you miss about it and what are you glad to see go? Leave a comment and let me know!