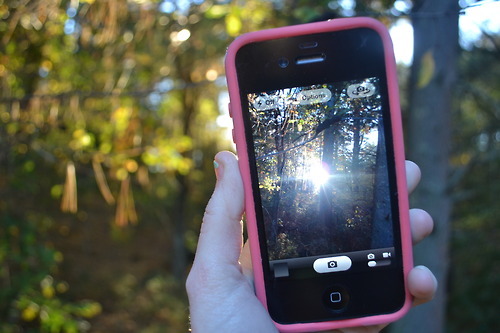 photo credit
If you're a college girl with an iPhone, chances are you're also a college girl who runs back and forth between her room and campus with an iPhone charger too. Between checking email and social media apps between classes, by the end of the day our battery life mirrors our energy levels. Read on for a few helpful tricks and tips to avoid the dreaded "20%" notification.
Adjust your email fetch time. Do you really need to check your email every 15 minutes or half an hour? It takes a lot of battery life to facilitate data transfers, so if you're looking for an easy way to save your battery then go to Settings, Mail, Fetch new data, and change your fetch time to something more infrequent. You can always retrieve email by opening the email app anyway.
Disable location services for the time being. If you're not using a navigation app or an app that needs a satellite pinpoint on your location, turn Location Services off. Turning this feature off will save you a lot of battery life because data transfer for the GPS system in your phone takes up a lot of juice.
Increase Auto-lock time. If you adjust the time in which your phone locks to lock sooner than you will save battery power. The faster that your phone goes into sleep mode, the less battery it uses to keep your phone running.
Turn off your 3G. If you're not out of signal, turn off your 3G feature through Settings, General, Network. Your 3G comes in handy if you need to get on the internet or make a phone call when you're out of range, but if you're within service range then it just takes up a lot of battery.
Dim your screen. If you go through settings you can adjust the brightness of your screen. Keeping your screen lit to max capacity majorly reduces its battery life, so by turning it down a few notches you can save yourself some time between charges. If you're still not satisfied with the darkness, you can switch the "Auto-Brightness" feature on, which can detect if you're outside or need some extra light.
What do you think?
Do you have an iPhone? What do you think of these tips? How do you save battery power? Let us know in the comments section below.