It's the first day of school. You're rocking a new 'do, some kicky boots, and an ultra adorable dress. The truth is you are looking fine and feeling fab. What could possibly go wrong?
Needle scratch! Your polyester backpack, monogrammed with your initials, and a slightly disturbing shade of pink. Your backpack is not college ready. The rest of you may be all grown up and rarin' to go, but that backpack has been around since middle school and it looks it. But never fear, Every College Girl is here to help. It's time to switch out that ratty old knapsack for something chic, mature, and all together worthy of walking down the hallowed halls of your new college. And don't worry, every last one of these babies is under $100 so you too can partake of the style. Here are eight affordable backpacks for grown women:
1. Faux Leather Backpack – Forever 21
Let's start out simple yet elegant. With the creamy looking faux leather and the subtle hardware, this backpack does anything but scream grade school. Plus, at $27.90, it's within the reach of even the most impecunious of college students.
2. Velvet Backpack – Zara

Look at that fabric! Don't you just want to dive into it? Carry around a little piece of luxury with you with this deep blue backpack from perennial budget-that-doesn't-look-budget favorite Zara. This one clocks in at $59.90. Not bad!
3. ASOS Metallic Roll Top Backpack – ASOS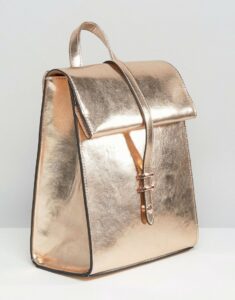 For when you want to add a little more glitz to your life, but don't want to spend the next two months picking glitter out of your hair, this backpack is a great choice. The metallic doesn't beg for attention, but instead commands it with an understated light gold that brings a little architecture and class to the table. And no one will ever know it was only $45.14.
4. Black Print Bouclé Backpack – River Island

When you're feeling all Gossip Girl down in your boots, it's time to break out the bouclé and show these peasants what class really is. This backpack also comes in simpler white and black, but why go simple when you can go socialite? $60.00
5. Backpack with Metallic Fastening – Zara

Another entry from Zara, this one going for simplicity and elegance. The clean lines and subtle black piping make this bag one for those with a taste for the finer things in life. But at $29.90, the price tag makes it for everyone.
6. Geo Cut-Out Bucket Backpack – rue21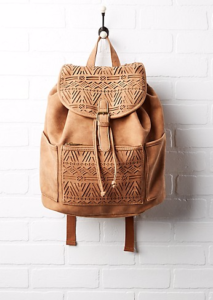 If you're feeling the boho, then this backpack is an eminently stylish choice. Free People vibe without the Free People price tag. An extremely palatable $14.99.
7. Reclaimed Vintage Ornate Embroidered Backpack – ASOS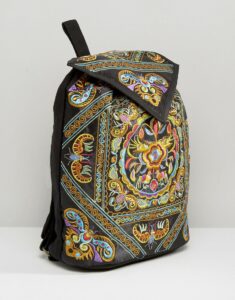 For when all you want from your backpack is for it to be drop dead bonkers ridiculously gorgeous. This is on the pricey end of our scale, but still affordable at $77.39.
8. Cute Color Block and Cartoon Design Satchel For Women – Trends Gal

Because honestly, who really wants to be a grown up anyway? $10.10
Pop Quiz!
Okay, pop quiz! Post a pic of the bag you're going to back to school with this fall and share it in the comments below!