Okay, so maybe you're a poor student/don't want to look identical to someone else/need more than one costume, but for whatever reason sometimes you just don't want to buy a costume.  Here's a whole bunch of ideas for costumes you can make out of things already in your wardrobe, so all you need to buy are accessories.
The best places to look for your accessories are costume shops, or dollar stores, which usually have complete sets for pocket change.
Pirate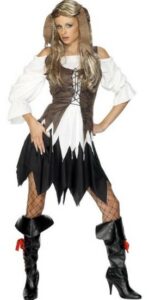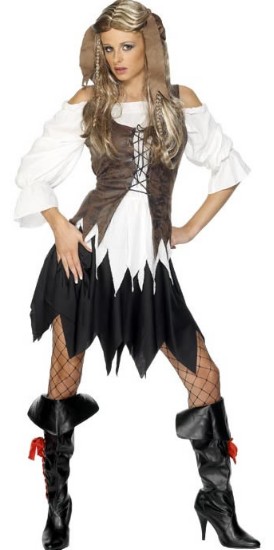 Outfit: a skirt or jeans and corset or vest over any long-sleeved top, with a pair of boots.
Hair and Makeup: Curls are the cliché but pretty much anything goes.  Feel free to go a little overboard on the eyeliner etc – after all, pirates are the original rule breakers!
Accessories: a hat/bandana, an eye patch, maybe a sword or parrot.
School Girl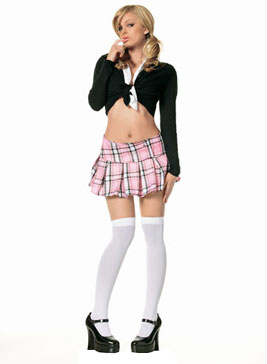 Outfit: This has to be one of the easiest outfits going.  A white shirt, a cardigan or blazer, plaid skirt, knee-high socks, and a tie.
Hair and Makeup: You could try NOT overloading it with make-up and going the typical slutty school girl look, or go subtle with just some lipgloss and mascara.  Hair in pigtails or braids is the obvious suggestion, with a big bow or headband.
Accessories: A tie if you don't have one.  Other fun props could be an apple/school bag etc, but they're not necessary
Doctor/Nurse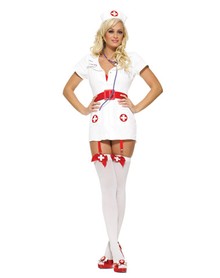 Outfit: If you're a science student, chances are you have a lab coat.  Shove it on over pretty much any outfit (or done up on it's own if it's long enough) and you're done! If you're not in science, sweet talk a friend who is.
Hair and Makeup: Personal choice, but red lipstick is a classic naught nurse look.
Accessories: Print off a fake name badge (Dr X, Sunshine Hospital), and try to hunt up a stethoscope/thermometer (even toy ones from a kid's kit if need be).
Geisha Girl
Outfit: Remember when long kimono tops were really in? Dig through your wardrobe because if you've got one, you're set!
Hair and Makeup: Put your hair up in a bun with some chopsticks. If your hair isn't long enough, pin a flower in instead. Get some white face paint or some really light foundation for a more subtle take, add some black kohl liner around your eyes and red lipstick.
Accessories: A fan

Witch
Outfit: Any dark coloured dress would work for this really, or a tiered skirt and top.
Hair and Makeup: Wear it sleek and straight for a sexy look for tease it up for a scary classic take.
Accessories: A hat and a broom or wand.  A black cat (of the toy variety, don't actually take a live cat to a pub!)
Vampire
Outfit: All black is the cliché, but you could take a leaf out of True Blood's book and wear whatever you like. Or check out our picks for a modern vampire look.
Hair and Makeup: Very very light make up, heavy mascara to make your eyes suitably scary looking, blood red lipstick
Accessories: A pair of fangs, of course.  Maybe some bat jewellery to really play up your role
Angel/Devil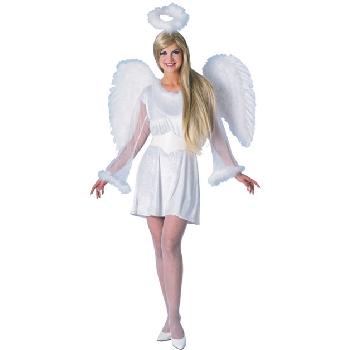 Outfit: All red or all white
Hair and Makeup: The devil is typically seen as seductive, so straight hair and siren make up.  The angel in comparison is obviously innocent, so curl your hair to make yourself look a little younger, and tread carefully with the make up! Go for shimmery shadow and light pink lipgloss.
Accessories: For the devil: horns and a tail, maybe a trident.  For the angel: some wings and a halo
Fortune Teller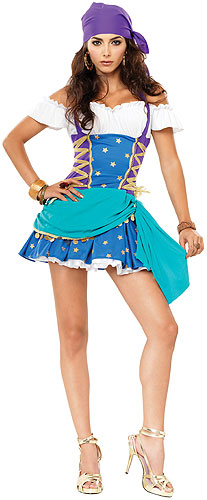 Outfit: A long or short skirt can work equally well for this, but a short skirt with a floaty top looks especially good. Play up the jewel tones!
Hair and Makeup: Put a bandana around your hair, but other than that personal preference
Accessories: A bandana, some gold hoops, a crystal ball.
What Do You Think?
Have you decided on a costume yet? Are you buying one or using what you already have? Leave us a comment and let us know…and have a very happy Halloween!