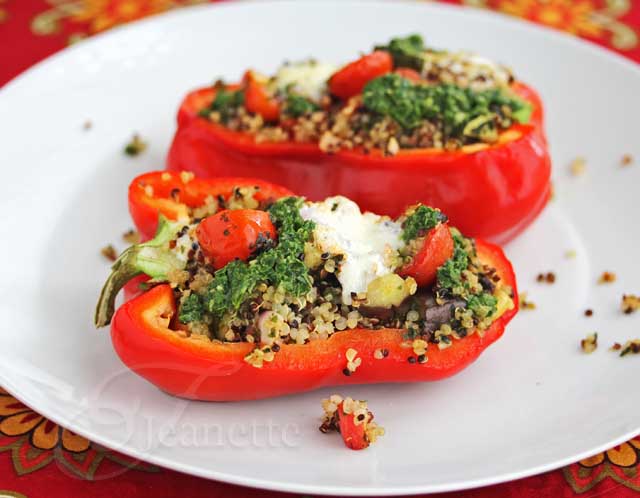 photo credit
Since it's summertime, peppers are in season and the healthy recipe possibilities are endless! For one that also pacts a punch with protein and extra vegetables, look no further than this recipe for quinoa stuffed peppers with grilled vegetables and pesto.
Original recipe can be found here.
What you need
1 cup of cooked quinoa
1 red bell pepper
1/2 cup of chopped grilled vegetables of your choice
1/2 cup of cherry tomato caprese
1 tablespoon of pesto
olive oil
For the pesto sauce:
1 tablespoon of pesto
a little dollop of water to thin out the dressing
A squeeze of lemon juice
Preparation
Preheat your oven to 425 degrees
Clean out your pepper by cutting it in half and removing the seeds
In a small mixing bowl, combine the quinoa, grilled vegetables, cherry tomato caprese and pesto
Mix together well
Divide the stuffing between halves of the pepper
Prepare the pesto sauce by mixing the pesto, lemon juice and water together until you reach the desired consistency of your choice
Drizzle the peppers with the sauce before serving
And there you have it, a perfectly healthy and delicious in-season summer treat!
What do you think?
Have you tried this recipe? What are your favorite healthy treats to make during the summer? Let us know in the comments section below!