photo credit
I love a good DIY project, but I hate when they require obscure materials or special skills like sewing or drilling. Easy and cute is the name of the game, and this project is no exception. Below are a few short steps to creating an adorable memo board for above your desk at school. I like this because it can liven up a dorm room or apartment, and you can make it your own:
Memo Board
What You Need…
Artist canvas (whatever size you want the board to be)
Fabric (enough to cover the canvas)
Co-ordinating ribbon
Cotton batting
Brads (you can get these in most craft or office supply stores)
Staple gun
Scissors
Ruler
Directions…
Staple the cotton batting to cover the entire canvas front.
Measure and cut the fabric so that it wraps around the front and sides of the canvas.
Staple the fabric edges to the back of the canvas.
Measure the board diagonally and cut enough ribbon to stretch across the centre.
Secure the ribbon across the centre and staple it to the back of the canvas.
Continue adding the ribbon in equal spaces diagonally across the canvas, then add them in the opposite direction (see photo to compare with the final product).
Once you have all your ribbons on, secure any place where they intersect with a brad.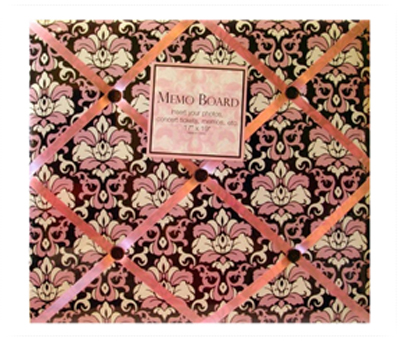 photo credit
I love this project because you can choose whatever colour fabric and ribbon you like best to bring a pop of colour to your dorm room or match your desk set in your apartment. If you make one of these cuties, take a photo and send it in!
What Do You Think?
Is this project easy or what? Do you think you'll try it out? Will you send us a picture when it's finished? Leave a comment or forum post and let us know!