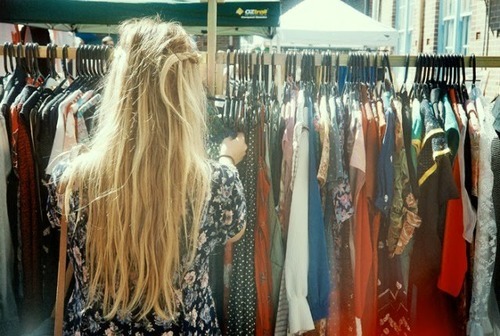 photo credit
Hello girls, hope you've all been enjoying this series thus far! Today, we get to the fun part – shopping!
We will break this section down into three parts:
Organizing your closet
Making a list
Setting a budget.
Organizing your Closet
To begin with, you need to know what you're working with. You need to be able to see everything in your closet. Begin by organizing your closet. If you can, invest in closet organizers such as the following:
Organize your closet in a way that makes sense to you – by color, by article of clothing, the list is endless. But you need to know what you have.
Making a List
Start with the obvious – are there any gaping holes in your closet? Do you have one pair of jeans that's ripped up, three sizes too small, and that's it? Are your only black flats falling apart from being worn everyday? Things like these are things that need to go on your list immediately. You need the basics in your closet before anything else.
Once you have this list complete, look at the other list you made – where you noted which items showed up most frequently in outfits you liked. These are the items you want on your list. Be specific. Don't put, "heels," say, "3" round-toe black heels," that way, when you go shopping, you don't get distracted.
Setting a Budget
This is probably the most important part of the process. Look at your list and set a realistic figure as to how much all of those things will cost. To the side of each item, list the absolute max price you're willing to pay. If you don't have to pay $20 for a sweater, don't put $20 next to it. This is your list, your money, your budget. Keep in mind, though, that the less you're willing to spend, the less options you have as far as places to shop at goes.
Now – when you go shopping, go with a plan, and STICK TO YOUR BUDGET. Carrying cash is the best option because you can visualize how much money you're giving away when you pay for an item.
Before you go shopping, decide which stores you're most likely to find the items you want at. Then, hit those stores first. Don't get distracted, stick to your list! Once your list is all checked off, then is the time to have fun with things that aren't on the list!
When shopping for the "fun items," try not to buy things that you already have or that are very similar to things you already have. Though it's easier to stick to the things you've decided you like from previous exercises, don't feel bad if you buy something that doesn't fit that specific style. Fashion is supposed to be fun!
What Do You Think?
Will you be hitting up any Black Friday sales, or are you still in the previous stages of this series? Do you have any further questions you'd like us to address? Let us know in the comments!