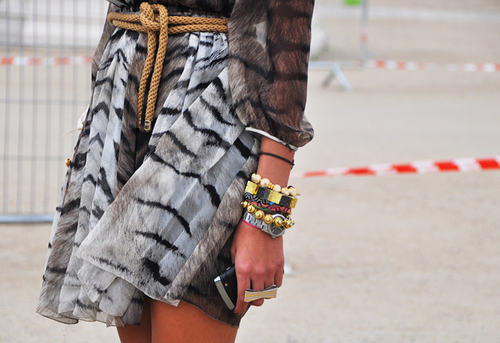 photo credit
Now that you've (hopefully) cleaned out your wardrobe, it's time to define your personal style! Before we begin, a disclaimer: Just because you've "chosen" your personal style, don't feel as though you can't change it up! If you go for a classic, clean-cut daily look, but you feel like a rockstar one day, embrace it! Fashion is supposed to be fun – break the rules and do what makes you happy!
Find Style Inspiration
You can find inspiration anyway – celebrities, blogs, your classmates. When looking for celebrities, it helps to choose someone who looks similar to you. However, it isn't necessary. If you love someone's style and they are the total opposite of you, don't run from it – just alter it to fit you!
Reading blogs is a great source of inspiration; it's so easy to spend hours looking through fashion blogs. Here are a few of my personal favorite (these women are not college-aged, but you can pull inspiration from everywhere!):
What I Wore Today
If you're looking for a source of out-of-the-box outfits and quirky inspiration, Kasmira is your go-to gal.
I Am Style-ish
Total girly-girl? Meet Tiffany. With an adorable wardrobe and a to-die-for shoe collection, she navigates her way through daily life looking fashionable every day.
You Look Fab
For in-depth fashion articles on how-to's, the latest trends, and fashion in general, check out Angie's site. It full of nifty information.
My Wardrobe Today
Having been every size from "2 to 22," Allie has great ideas and inspiration for the curvier crowd!
the Not-So-Desperate Housewife
As a fashion designer, Kristin is an excellent example of never forcing yourself to stick to one style – the girl's a style chameleon, and she always looks good doing it.
Lookbook
Full of user-uploaded street style photos, you're sure to find something that tickles your fancy here.
Once you've found your style inspiration, figure out a way to save the outfits you like. Print them out or save them in a folder on your computer. Keep them in an easily-accessible place so you can flip through them when you feel a little lost.
Make A List
Once you have the photos saved, go through each photo and make a list of what you like about it. Personally, I find it helpful to list the items top-to-bottom, and then, if that item shows up in a different photo, I make a little mark next to it. For instance:
White button-down
Skinny blue jeans III
Black heels II 
Short pearl necklace
Black bag
This list will give you a good idea of what the building blocks of your wardrobe should be. The items that appear the most on your list are the ones you should try to get first, because more than likely, you'll wear them all the time.
Forget The Labels
Gone are the days when everyone was "preppy" or "goth." Look again at your photos, and what sort of style is it? Is it a little glam with a touch of hippie? Perhaps it's clean-cut and classic. Whatever it is, don't feel the need to label yourself accordingly. While it helps to "define" the look for shopping purposes, don't feel as though you have to label yourself. If you do want to label your style, don't feel the need to stick to it! People change all the time, and it's alright to allow your fashion style to change with you.
This week's challenge: Go through blogs and look at pictures of celebrities to come up with your personal style. Then, go through each of the photos that you like and make a list of the items you liked. Figure out what the top five items are in achieving your desired look.
What Do You Think?
Will you be giving our challenge a try? What do you think of the tips in this week's post? Leave us a commetn and let us know!