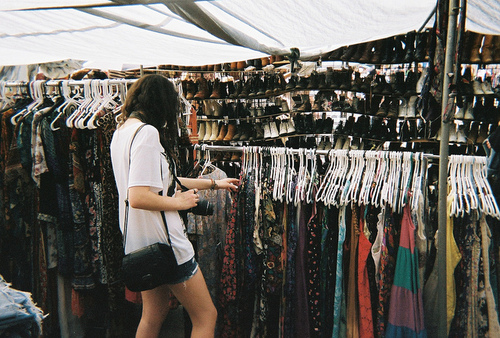 As money-savvy college girls, we're always looking for new ways to save. When you're looking for that new way to decorate your room, for that new outfit for the weekend, or for a new piece of furniture, the easiest option isn't always the most cost-effective. Read on for tips and tricks to get whatever it is you need, for less!
Shop at thrift stores
I know it sounds kind of lame but you know what they say, one man's junk…and you can usually find some pretty cool stuff. You can also donate your unwanted items. In fact, most thrift store donations are tax deductible so make sure you keep that receipt handy when you efile your taxes for the year.
Shop at a discount stores or department stores
They have designer clothing at a cheap price.
Wear the clothes you have in different ways
pair the top that you always wear or that skirt with something else, or wear different shoes and accessories with your favorite romper.
Shop in your mom's closet
If she lets you – I do it all the time! You might find some pretty cute stuff.
Ask for hand-me-downs
My aunt just gave me a bunch of cute clothes, and I felt the same excitement I feel when I go shopping and I didn't even have to spend any money!
Garage Sales
Garage sale season may be summer, but people are getting rid of things they don't need left and right.
Ask Around
I got my fridge for my college dorm room from some people my parents met at Walmart, they noticed my parents shopping for a mini fridge and told my parents their son had just graduated and they didn't need the mini fridge anymore, so they gave it to my parents for free! There's nothing wrong with asking around.
What do you think?
What are your favorite ways to save money? Share your tips and tricks in the comments section below!