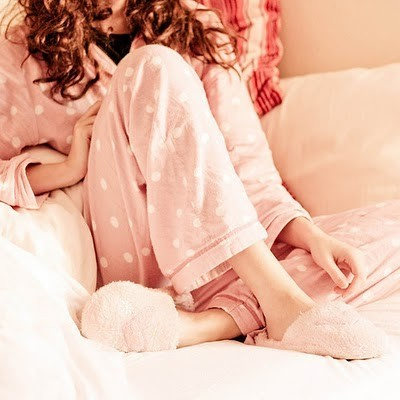 photo credit
Cold weather is quickly approaching, but instead of reaching for your Snuggie and throwing on some old sweatpants to help keep you warm the next chilly fall evening, consider some of these snuggly alternatives! You never know who's going to see you in your sleepwear, especially if you have roommates or live in a dorm. Plus a true sense of style should never sleep, even when you do!
Flannel Pjs
A cute set of flannel pjs like these from la Vie en Rose can be quite comfy and classic, but sometimes they can feel a bit too bulky to sleep in. If you find this or if it's not quite cold enough to need pjs that warm, you can always swap out the long sleeved flannel top for a tank top, or the flannel pants for your favorite sleeping shorts. If you want something lighter than flannel there are always lots of similar looks that come in cotton.
Robes

A big plush robe can be awfully comfy and I think it's one of those winter must-haves, but if you're looking for a more flattering fall option, or maybe just something with a bit less bulk, you could try a cotton/polyester blend robe like this one from La Senza. The hood is great and combined with the ruffled bottom it makes for a super cute bedtime look.
If you just can't pull yourself away from the fleecy feeling of a big comfy robe though, another option is to go with something like this fleece hoody from la Vie en Rose. That way you get the comfy feeling of a plush robe but in a more everyday kind of look.
Slippers
A good pair of shoes can really make an outfit, so doesn't it make sense that a good pair slippers could do the same for your bedtime look? There are so many kinds of slippers, and you really can make almost anything work, as long as it's comfy! Right now I'm a fan of these cute plaid slip on moccasins from Aeropostale.
They are nice and warm and the soles make them a great alternative to shoes for walking the halls of your dorm, or even outside on a dry day. If you want something a little more on the fluffy side however, these fleece lined slipper boots from la Vie en Rose would look great with almost any sleepwear.
What Do You Think?
What are some of your favorite bedtime looks? Do you tend to go for cuddly, sexy or do you even think about it? Leave us a comment and let us know!