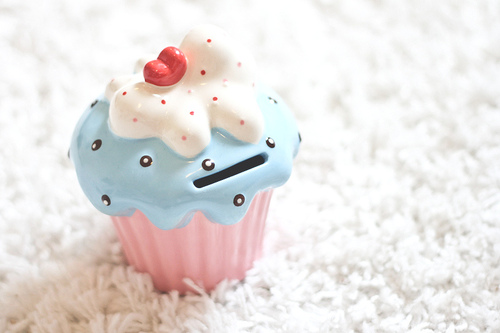 photo credit
So, this week I've been attempting to learn more about earning money online. Unfortunately, I've also had a manic week of lectures, 3 assignments, 1 exam and 5 hours of karate, which means none of the amounts earned are particularly impressive. On the other hand, that means all these amounts are easily achievable – we haven't spent 12 hours a day trying to earn online and then claimed you can fit it in around college life!
First up…the failures
Triond.com & Helium.com
Site type: Article writing
Earnings: 0
Triond and helium seemed like great ideas when I was looking for online earning possibilities since I like to write. However, Triond won't allow articles you've already written elsewhere, though you're free to publish them afterwards. Helium take full rights to any articles for one year, during which you aren't allowed to publish that article anywhere else. These strict rules, combined with the fact that my one helium article has earned nothing at all, put me off fairly quickly. To be honest, when I have the time and inspiration to write, I want to concentrate on ECG, fanfiction.net, or my blog – things I enjoy writing.  If article writing appeals to you though, by all means go for it!
The potential
Microworkers.com
To be completely honest, my manic week meant I haven't even attempted to earn on microworkers so far. I think this could be the most profitable of the sites, since you can earn from sharing links on facebook and twitter, which would take less than thirty seconds. However, you'd have to do a lot of small tasks to earn as much as on MyLot or Swagbucks, and I don't know if I have the patience. I'll be giving it a go this week though.
The success
Mylot
I spent approximately 20 minutes on mylot, four times this week, and earned not quite $1. While that's obviously not much, I could have earned a lot more by leaving longer comments, or more comments, or just spending more time on the site.  I'll be concentrating on mylot this week to see how much I can really earn out of it.
The New discovery
Site name: Swagbucks
Type of site: Multiple opportunity site
Minimum payout: None – you can trade points in for rewards of various prices, from Amazon vouchers to Paypal
Payment dates: Arrival time varies based on prize selected
I discovered swagbucks this week, and this was my most successful site for the week. I earned 325SB this week, nearly half the amount required for a $5 Paypal voucher (700SB) and more than a third of the amount for a £5 Amazon voucher (849SB)
Next week
Now that I've got my head around each of the sites and what works for me, I'll be really focusing this week on microworkers, mylot and swabucks. The aim is to see how much a student can feasibly earn (if anything) online, around a full schedule and a social life.  Next weeks results will be broken down a lot into exactly how much I earned and what I did on each site to achieve that. Fingers crossed for a successful, profitable week!
What do you think?
Have you tried any of these sites to earn money online? Let us know in the comments section below!