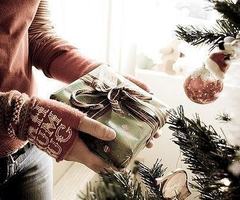 photo credit
For most of us college girls finals cut in pretty close to the holidays, turning our shopping days into an all-out blitz with the rest of the last minute crowd. One way to avoid the stress of the rush? Plan ahead! Arm yourself with the following gift guide when gifting your favorite gals and you'll be back in the quiet comfort of your living room enjoying a Jack Frost martini before you can say "jingle bells."
For the sensualist: try a luxe candle. What girl doesn't love something that's pretty and smells fantastic? Look no further than the Voluspa Suede Blanc candle, which retails for about $27 and has a 100-hour burn time. The scent is exotic, but buttery rich, and will give her room a luscious atmosphere.
photo credit
For the girl on the go: MAC "Perfectly Plush" Mineralize Brush Kit. This mini brush collection comes in a cute leopard print bag, and includes four of MAC's best brushes. The MAC Mineralize Brush Kit retails for about $50.
photo credit
For the fashionista: mint arm candy. Stacking bracelets has been a trend that has stuck around, and when paired with the mint color scheme it screams fashionista. The seven-layer stack retails for $43, and is called Aqua Doll by Princess P. Jewelry.
For the girly girl: Sephora's Perfect Reds nail polish set. For $25 you can gift your favorite girl five of Sephora's best red shades in their Perfect Reds Set, which includes a fire engine red, a dark red, a glitter red, a berry red, and a Bordeaux red.
What do you think?
What do you think of this gift guide? What are you getting your best girl friends this holiday? Share your ideas with us in the comments section below!