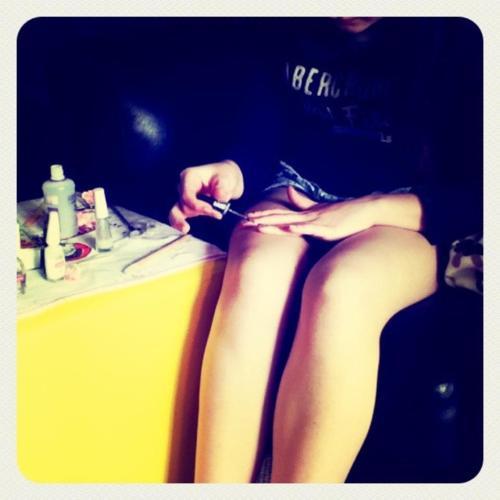 photo credit
If you feel like winter is getting a little drab, why not brighten your mood with a little color? I've started to become notorious for getting artsy with my manicures and trying anything on my nails, after I found myself stuck in a rut with just about every shade of red or pink on the planet, I decided to take matters into my own hands – literally. Nothing like adding a unique twist to your mani to lift your mood and make you stand out amongst a sea of fire engine red or fall neutral-wearing girls.
Glitter
photo credit
Jewel tones compliment just about any skin tone, and only doing one nail with sparkle is also a fun take on this trend. There is a ton you can do with glitter, so have fun and just go for it!
Disclaimer: taking off glitter polish is torture. The best method I have found to take it off is to soak a cotton ball in nail polish remover and hold it on your nail for about 3 minutes, or longer depending on how thick your polish is. Then it should just wipe off!
Edgy Louboutin Tribute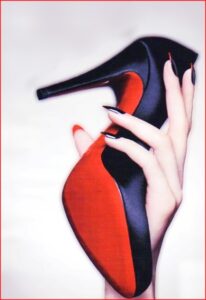 photo credit
Get that sexy Louboutin effect on your nails by painting one nail red and the rest black. Make sure to add extra coats of top coat for extra shine!
Glitter Gradient
photo credit
This can be done ultra fast and still look chic! Simply paint a coat or two of a skin-tone shade nail polish as your base, or skip that and just do a clear coat. Using a sponge, sponge on the glitter polish on the tips of your nails, then as it dries paint on a little extra glitter along the top to make the glitter at the very edge of your nail look thicker, add some clear topcoat and then voila! The perfect gradient.
Accent One Nail
photo credit
This is one of my personal favorites. Pick a finger on each hand and make it stand out from all the rest. There is a million ways to do this: paint one nail with glitter polish, neon polish, or black, whatever is the opposite of the polish you chose for the rest of your nails. Or keep everything in the same color family for a more subtle effect – if you're going for red, paint one nail an eggplant purple.
Ombre
photo credit
Pick your favorite color, and choose multiple shades in the same color family for the perfect ombre, gradient look. It works for just about any color – pink is great for channeling spring, and blue hues compliment the winter weather.
What do you think?
What are some of your favorite nail trends? Add to our list in the comments section below!