Some holidays are meant for spending time with family. Christmas, Thanksgiving, and Easter all call up memories of little cousins and silly aunts fighting over the drumsticks. However, every now and then, there comes a holiday that seems to be specifically designed for the college student. Since it's not October, I must be talking about St. Patrick's Day! An excuse to drink, dance, dress-up, and generally partake in good old-fashioned college revelry. Here are three St. Patrick's Day outfits for different occasions, with a drink selection to match! Choosing your outfit now will help to get you in the mood. Only a few weeks to go!
1. Colourful Casual
Even if you're having a more laid-back St. Patrick's Day, or you're just not one for outrageous outfits, you can incorporate a little bit 'o the Irish into your wardrobe for one day to enjoy the celebrations. The pop of green and the accessories make it festive, while the boyfriend shirt, leather belt, and worn-wash jeans give it a more relaxed feel.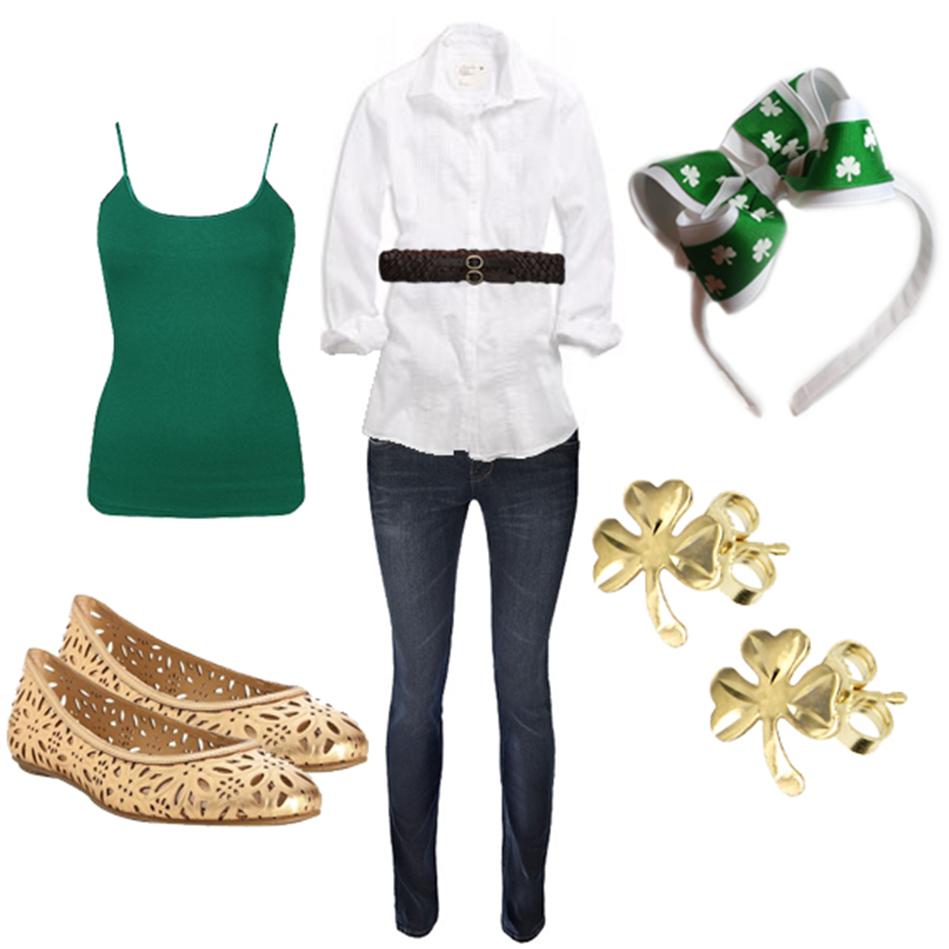 cami: forever21, shirt: American Eagle, belt: Abercrombie & Fitch, jeans: Garage, headband: fromheadtobows, earrings: Body Candy, flats: Bluefly

Drink: Starbuck's Tazo Green Tea Latte (image source)
2. Green Glam
If you're in the mood for getting deck-out but still want to feel in the St. Patrick's spirit, here is the perfect outfit for you. The dress is a little unexpected so you can stand out, even when everyone is wearing green. The tights actually have little flecks of gold shimmer in them, which pick up on the outrageous shoes (but hey, when else can you get away with wearing those bad boys?) The headband is playful and the clutch it understated enough to pull it all together. Totally eye-catching and fun.
dress: modcloth, tights: American Apparel, shoes and headband: forever21, clutch: urban outfitters

Drink: Green-apple martini (image source)

3. Costume Crazy
If you're really in the mood to dress-up, your best bet is a costume. You can either pick up a store-bought one at a costume shop or sexy shop (like the one pictured below), or look at the elements of a typical costume and fashion your own (like I've done here). Just be sure to take lots of pictures and have a very Irish evening!
costume: buycostumes.com, ruched-sleeve top: Charlotte Russe, tutu: tutusandpettiskirts.com, corset: forever21, knee-high socks: Top Shop

Drink: Green beer (of course!) (image source)

What do you think?
I hope you enjoyed my St. Patrick's day outfit ideas! What will you be wearing this St. Patty's? Are you going out, or staying in? Leave a comment and let me know! How to look your best when celebrating one of college's "official" holidays is something every college girl should know.