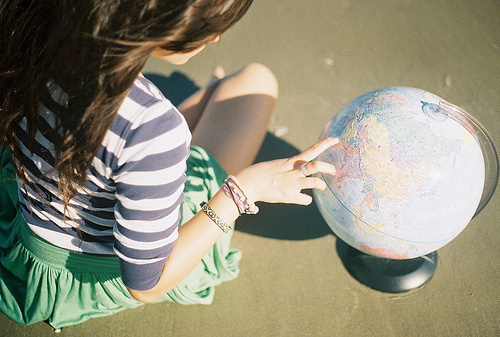 photo credit
Backpacking cross-country, roughing it, and having that once-in-a-lifetime-experience… sound familiar? Want to discover and explore England or Italy?
Well, whether you're hiking abroad, or packing light for a summer getaway, what you bring and how you stack it can make the difference between one bag and ten.
Light Layers
For traveling abroad, it's especially important to know the climate of the country your going to. However, hot or cold, you have to be prepared for emergencies. Pack light layers so that, as it gets warmer or colder, you can add and remove clothes. This can be easily done with tank tops, thin thermals and light jackets. (Some jackets are even compressible and can be stowed in their own pockets).
Jacket, North Face, $79
You Don't Need Your Whole Closet
No matter how much is in your wardrobe, there is a limit to how much you can wear. Don't over-pack. Think about how long you are going to be gone and whether you will have access to a washing machine. Remember that jeans and most shorts can be worn more than once and that you don't need more than one shirt per day. Pack clothes that can be casual and nice. Cotton dresses are cute and are virtually wrinkle-free, plus they can be dressed up or down with accessories. (Headbands and ballet-flats are small and easy to pack for dressing up, and bangles and tennis shoes can make it casual and are multi-functional)
Remember the Essentials
Other than clothes, there are other things you have to bring. A toothbrush and some soap are amongst the more obvious of essentials… but there are a lot of other cheap gadgets that can be huge lifesavers. A money-belt is useful for traveling abroad (you can carry around your debit card, passport and large sums of cash discreetly). A tide bleach-pen is good for those ketchup-mishaps and a mini-sewing kit is a quick fix for trips, tears, and dangerous bend-overs.
Use Your Bag To Its Fullest
Making the most of your suitcase can be so simple; the secret is to not shove everything mindlessly into your bag. Folding your clothes can leave lines if you have easily crease-able clothing. Try rolling your clothes. Start with heavy clothes and work your way up to the lighter garments. Shoes fit easily into the corners or against the sides of your bags and the little trinkets can be tucked away in pockets, or placed in a cosmetic or Ziploc bag.
Cosmetic Bag, Marc by Marc Jacobs, $48
Carry It On
Traveling abroad, or taking trips that require you to switch planes, creates a higher rate of losing luggage. The less you pack, the less luggage you need, and the higher chance you are allowed to carry it onto the plane. Most airlines allow a decent sized carry-on, so check the regulations for your airline. Alaska Airlines allows dimensions up to 24"x17"x10" while Delta Airlines allows 22"x14"x9″. Figuring out the dimensions is as easy as going on the internet to your airlines website, then taking a measuring tape to your bag.
What Do You Think?
Are you doing some travelling this summer? What are your best packing tips and tricks? Leave a comment and let me know, and stayed tune for the next part in my series on how to backpack across Europe!