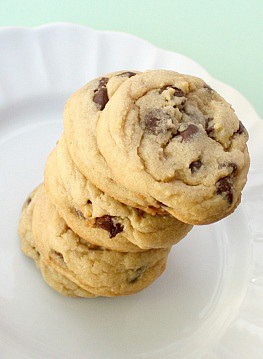 photo credit
Unless you're a "crispy cookie" type of person, this is the recipe for you. This recipe will make the fluffiest, softest chocolate chip cookies that will stay that way long after you bake. The secret? One unusual ingredient: cornstarch.
Original recipe can be found here.
What you need (serving size: about 3 dozen)

1 egg
3/4 cup of softened unsalted butter
3/4 cup of brown sugar
1/4 cup of granulated sugar
2 cups of all purpose flour
2 teaspoons of vanilla extract
1/2 teaspoon of salt
2 teaspoons of cornstarch
1 cup of chocolate chips
Preparation
Preheat your oven to 350 degrees F
In a large mixing bowl, combine the butter, brown sugar and granulated sugar together until fluffy, the colors should be light. Beat with mixer if necessary
Add the egg and vanilla extract to the mix, and blend
Add in the flour, baking soda, salt, and cornstarch, and then stir in the chocolate chips as well
Using a spoon, drop a spoonful of dough onto a prepared cookie sheet
Bake for 8-10 minutes, until the edges are a light golden brown. Don't cook longer than 10 minutes, the tops will not brown
 Let cool for about 5 minutes until serving, or eating
And there you have it! If you want your cookies extra soft after baking, to the point of gooey-ness, place a piece of bread on top of them and let sit.
What do you think?
Have you tried this recipe? What is your favorite way to bake cookies? Share with us in the comments section below!