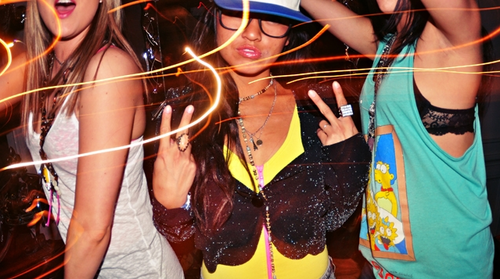 photo credit
Being a college girl, there seems to be an endless array of excuses to party. From summer break luaus to homecoming tailgates to spring formal predrinks, sometimes it seems like the party never stops for us college girls! But at those parties that seem to be lacking excitement, having that one special guy or gal who livens everything up can make a huge difference. If you've always wanted to know how to be the life of the party, read on for our best tips.
Wear a Killer Outfit
No life of the party girl is complete without a knock-out ensemble. You don't have to look ridiculous, you just have to stand out and show off your own style and personality. Sure, it's easier to just throw on a flowy top and dark skinny jeans, but unless you want to blend in with every other wallflower at the party, spend a little extra time to pick out an outfit that is unique, fun, and really stands apart. Look for bright colours, unique combinations or prints, or anything that is 100% you and no one else. Below is just one example of a fun, summer party outfit that would surely help you stand out, but don't feel limited in this area: mix it up and be creative! (Confidence is key–no matter how outrageous you think your outfit might be, if you wear it with pride, you'll strike envy in every girl there)
crown ring, dress, asos / necklace, monsoon / fringe vest, Jane Norman / studded platforms, debenhams
Be Outgoing
It's hard to get the party started if you don't speak up. Even if you're not naturally outgoing, try to fake it til you make it. Talk to people you've never met, let a friend teach you their dance moves, introduce your other shy friends who are having trouble making their own conversations. It may be a little tricky at first, but if you pretend to be outgoing, pretty soon everyone will be drawn to you and it will make starting conversations and meeting new people a cinch. Making connections and keeping everyone engaged and having fun is the easiest way to make any party a success.
You Don't Have to Drink
In fact, unless you want to be the "drunk of the party", going easy on the booze is probably a better idea. It's really easy to lose control and end up being the sloppy drunk everyone has to take care of, rather than the lively party girl you set out to be. Of course, in college, a lot of us indulge in alcohol at parties, but drinking in moderation and keeping your inebriation level in check is the best course of action if you want to keep the party fun and carefree. Vomit=so not fun and carefree.
Be Creative
Sometimes a crazy idea can turn into an unforgettable night. If you need to, think about some "spontaneous" adventures you could suggest before the party even begins, keeping in mind the people attending, the location, weather etc. Skinny dipping in the pool? Maybe with a little encouragement! How about a spur of the moment water gun fight, for the more tame at heart? Even old school classics like truth or dare, or spin the bottle can breathe new life into a dying party scene. The worst that can happen is your wacky idea will be turned down, and you can all have a laugh at how ridiculous it was for you to suggest everybody go streaking down main street.
What Do You Think?
Are you always the life of the party? Do you wish you could be? What are you favourite party time tips? Leave a comment and let me know!