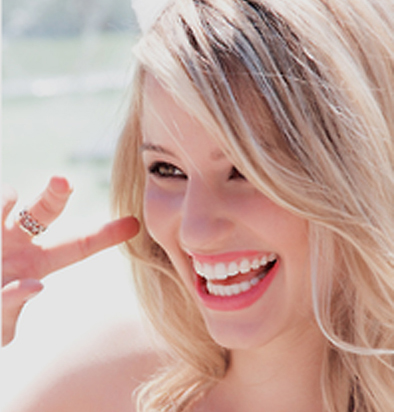 No matter how fabulous your outfit, or how expensive your shoes, nothing complements a stellar style like a mega-watt smile. If you're not blown away by you grin in all those Facebook photos, follow these simple steps to pump up your best accessory.
Whiten
The best way to make you smile really stand out is to start with a set of sparkly pearly whites! Pick up a pack of your favourite whitening strips, and use them all for the time required. If you skip a day or two, it could set you back and ruin the final results. Once you've removed the stains, keep them away with a whitening toothpaste, and make sure to brush at least twice a day to keep those chompers bright and beaming.

Crest Whitestrips 3D Professional Effects, Colgate Total + Whitening

Smooth
Now that you've got brilliant teeth, top them off with a pair of smooth, healthy-looking lips. To get a nice healthy look, use a soft-bristle toothbrush on dry lips and brush in a circular motion. You can either use an older toothbrush that has softened up, or pick up a soft-bristle children's or baby's toothbrush. This will gently exfoliate your lips to get rid of dead skin, and also draws natural colour into them. Smooth on a lip balm with an SPF to protect your lips again the sun and keep lips from drying out or burning during long days on the beach. Nice, smooth healthy lips are the perfect addition to a set of sparkling white teeth.
Colgate Extra Soft Toothbrushes, Ocean Potion Lip Balm SPF 40

Shine
To really make your smile pop and draw attention to your fresh white teeth and soft lips, top your kisser off with a luscious lip gloss. There are so many glosses out there to choose from, it can sometimes get a little overwhelming. I recommend a gloss that isn't too sticky (I hate when my strands of hair end up stuck across my face) and comes in a shade with subtle blue undertones. These undertones are universally flattering against any skin tone and help to make your white teeth look even whiter!
Smashbox Limitless Long Wear Lip Gloss in 'Forever', Wet n Wild Diamond Brilliance Moisturizing Lip Sheen in 'Carats for Bunny'

What Do You Think?
Do you like my tips for a brighter smile? Are you going to try any of them out? What are you best tips for a bright, eye-catching grin? Leave a comment and let me know!