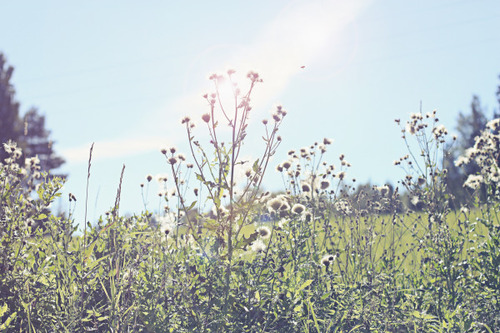 photo credit
It's a tough time of year to shop. We're all dying to get something from the new spring collections, but who wants to wait another few months to wear it? Luckily, most clothes can transition from winter to spring – if you pair them with seasonally appropriate items and accessories. That means buying spring pieces now can actually be a great investment. (Whew!)
 Look #1: Pretty in Pink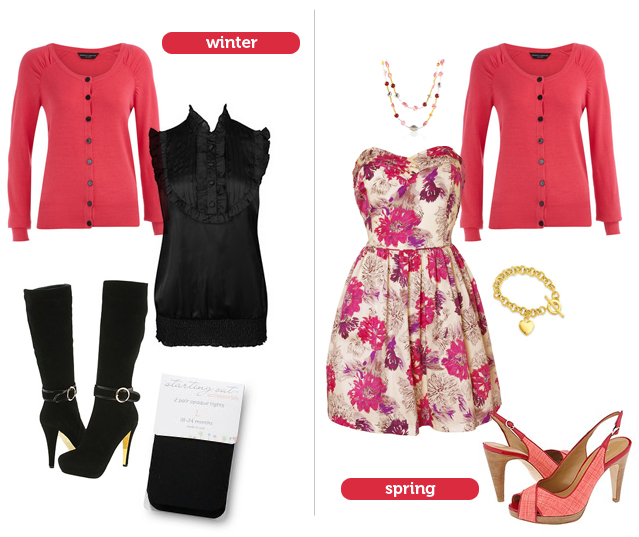 FOR WINTER: Store shelves are already filled with cheery spring colours. Why not grab a bright cardigan to spice up your winter wardrobe? Layer a fun coloured cardigan – like bright pink, for instance – over a black blouse, leggings and knee-high boots, for a winter look with flair.

FOR SPRING: That same cardigan will look perfect over a floral dress! Pair it with cute strappy sandals or wedges and some glittery accessories for the perfect spring outfit. 
Look #2: Need for Tweed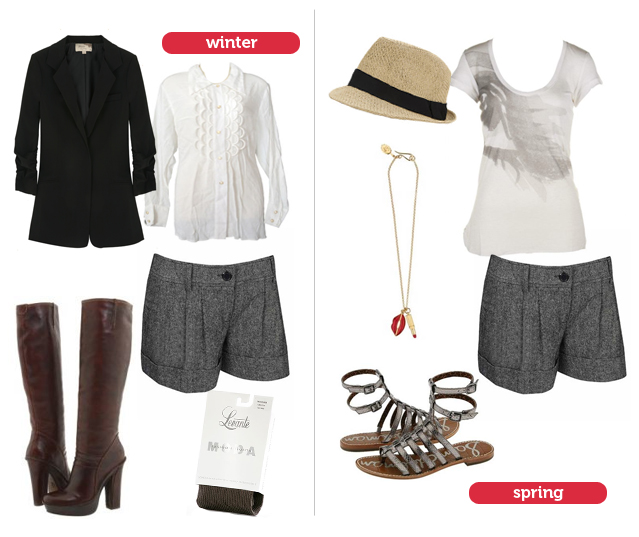 FOR WINTER: Shorts in winter are surprisingly doable when you wear them with heavy wool tights and riding boots. It's all about layers to keep you cozy – so do the same on top, by throwing a long blazer over a pretty blouse.
FOR SPRING: Tweed shorts are just as good when the temperature goes up. Strap on some slinky gladiators and take off those heavy tights for a laid-back look. A slouchy t-shirt and fedora keeps this look casual and fun. 
Look #3: Feeling Blue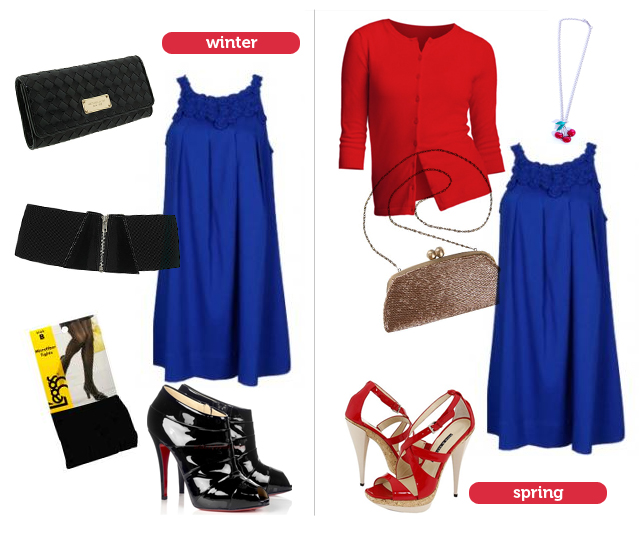 FOR WINTER: Ditch your little black dress for a while and try a bright mini-dress instead. Don't worry about being chilly – tights and patent-leather heeled boots will do the trick. And a black belt cinching your waist will make your figure look fantastic and tie the whole look together.

FOR SPRING: Take cues from Katy Perry and go bright! A fun blue dress will be striking when paired with bright red heels and a cardigan in the springtime. And why not match your necklace, too?
What Do You Think?
Are you itching to pick up some spring pieces? What's on your list? Can you rock it now and later? Leave a comment and tell us!