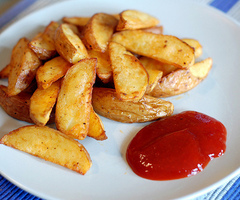 If you haven't tried baked french fries, think of them as the handsome older brother of your standard fry. They have all the great qualities you like about the original fry, but with mature bonuses. In this case, those perks include less calories and fat, and a sodium amount that is completely within your control, while still satisfying your salt cravings.
What you need
24 ounces of peeled and cut potatoes, about 3 large russet potatoes total, cut into even wedges lengthwise
5 tablespoons of vegetable oil (can substitute canola or peanut oil, depending on your preference)
salt and ground pepper, to taste
Preparation
Preheat your oven to 475 degrees F
In a large mixing bowl, place your potato wedges and cover with hot water, letting soak for about 20-30 minutes
On a rimmed baking sheet, cover the surface with about 4 tablespoons of oil, using a pastry brush or tilting the pan to coat the surface evenly
Sprinkle the oiled pan with salt and pepper
Drain the potatoes from the bowl, and spread the wedges on paper towels
Dry the empty bowl, then return the wedges to it and cover with 1 tablespoon of oil
Place the potato wedges on the baking sheet, cover with foil, and bake for 5 minutes
Remove the foil and bake for another 15-20 minutes, making sure to rotate the baking sheet after the first 10 minutes. The bottoms of the potatoes should be a golden brown
Flip each potato wedge with a spatula, and continue baking until golden and crisp for another 5-15 minutes
Transfer the wedges to cool on paper towels to soak up excess oil. Sprinkle with extra salt and pepper if you like, and serve while warm!
Original recipe can be found here.
What do you think?
Have you tried this recipe? What are your favorite french fry recipes? Let us know in the comments section below!