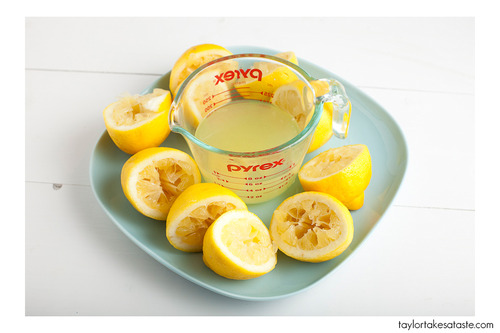 Working at a lemonade stand all summer has taught me one thing: lemonade is not only better when it's freshly made, it is so worth the small effort it takes to make it! Squeeze the most out of your last few days of summer by making this yummy summer treat and kicking back with a tall, cool, glass:
Fresh Lemonade
Tools:
measuring cups 
lemon squeezer
saucepan
stove
pitcher
Ingredients:
6 large lemons, washed
1 cup sugar
5 cups water
Directions:
Bring one cup of the water to a boil in the saucepan.
Pour the sugar into the boiling water and stir until the sugar is dissolved.
Remove the saucepan from heat immediately and turn off the stove.
Slice the lemons in half and use the lemon squeezer to squeeze out the juice. You should end up with about 1 cup of juice.
Add the lemon juice and sugar-water to the pitcher, then stir in the remaining 4 cups of water. For sweeter lemonade use 3 cups, for less-sweet lemonade use 5 cups.
Refridgerate the lemonade until it is chilled. Serve and enjoy!
What Do You Think?
Do you like lemonade? Have you ever made it from scratch? Leave a comment and let us know! photo credit.