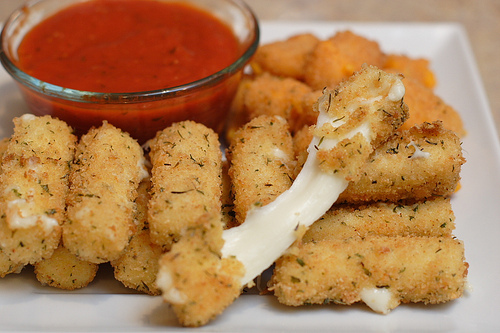 Yes, mozzarella sticks can be healthy! Who says our favorite cheesy foods have to be off limits?
Mozzarella sticks are awesome for every occasion, and make for a delightful snack that most of us have been accustomed to since childhood. Now that we're mature college girls who are more health conscious, we can still have the cheesy snack we all love, guilt-free!
Read on for instructions on how you can DIY these delicious healthy mozzarella sticks!
What you need
12 sticks of string cheese in your choice of cheese, go for the low sodium kind if you want to be extra healthy
1 egg
2 tbsp of flour
5 tbsp of bread crumbs
2 tbsp of parmesan cheese
A dollop of olive oil, or cooking spray
Preparation
Cut the cheese sticks in half, making 24 slices, then freeze the slices in the freezer until completely frozen
Beat the egg in a small bowl. Use a separate bowl to combine the bread crumbs and parmesan cheese
To bread the cheese sticks: First dip the frozen cheese stick into the flour, then into the egg, then into the bread crumb mixture
Once all of the 24 sticks are coated, place them on a baking sheet covered with aluminum foil coated with a few drops of olive oil or sprayed with cooking spray (this will keep cleanup to a minimum, and keep the sticks from sticking!)
Bake in the oven at 400 degrees for about 4 minutes, or until crisp. They need to be watched closely so they don't melt completely!
What makes these mozzarella sticks healthier? They're home cooked with less butter, they're baked instead of fried, and cheese sticks are a naturally lower calorie cheese snack. You can also add Italian spices or herbs to the recipe, adding them into the bowl with the breadcrumb mixture. Serve with marinara sauce and enjoy!
Have you tried this mozzarella stick recipe?
What do you think? What are your favorite healthy substitutions to make while cooking? Leave us a comment below!