With all the new TV shows following cupcake craftsman and bakery artists like DC Cupcakes and Cake Boss, your typical dirty icing Betty Crockers may not cut it for you anymore. Have you ever wondered how bakeries get that adorable cupcake frosting swirl? It's impossible to do with just a spatula and a spoon, but we have you covered here at Every College Girl. I learned a trick or two after spending 2 summers decorating cakes at Dairy Queen. With my tips, you'll be your own cake boss in no time.
Perfect Cupcakes
Tools: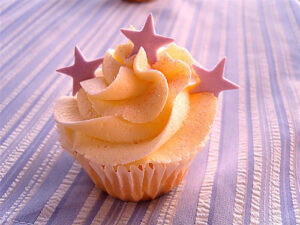 24-cup cake pan
oven
mixing bowl
spatula
measuring cups
pastry bag with large star tip
plastic wrap
Ingredients:
1 box cake mix
1 can frosting
ingredients listed on back of cake mix box
sprinkles/glitter sugar/etc (optional)
food colouring (optional)
Directions:
First, mix the cake mix and bake according to the directions on the box. It really doesn't matter that you used store-bought mix, most people have trouble telling the difference between a cake made from scratch and a high-quality grocery store mix.
While the cupcakes bake, scoop the frosting out into a bowl. If it isn't already, let it come to room temperature.
Mix it around with the spatula to get it more pliable. If you want to colour it, now is the time to add a few drops. Be careful though: too much food colouring will make the frosting too runny to pipe!
Assemble your pastry bag. This is the essential tool! You can get these at any craft or baking supply store, like Michael's, and they are only a couple bucks! Make sure to get the bag, as well as a large star tip, and an insert to attach and remove the tip.
Scoop the frosting onto a square of plastic wrap, and wrap it up tightly with only one opening. Put the frosting into the pastry bag with the opening down. The plastic wrap makes it easier to clean your pastry bag afterwards.
Once your cupcakes are done, make sure they are completely cooled, or else they can melt your pretty frosting!
Carefully pipe the frosting through the pastry bag onto the cupcake, starting with the outside edge and spiralling inward to make a swirl.
Top with sprinkles, glitter sugar, or any other decorations.
It may take some practise at first, but once you get the hang of it, you'll be amazed at how simple it is to create professional-looking cupcakes right in your own kitchen! These pretty confections make great gifts if you're short on cash, or want to impress you boss or professors. Everybody loves a good cupcake!
What Do You Think?
Will you try out this method? Have you ever tried to do fancier cupcake styles? Leave a comment and let me know!