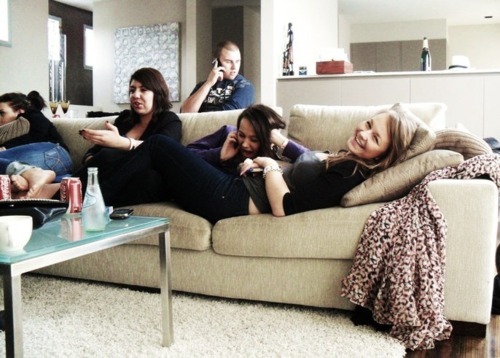 Living on campus or with a group of your close friends sounds great at the beginning. Being able to live on your own without your parents and becoming a "grown up" is the ultimate dream of most college students. There are instances where a bad roommate situation could occur and there are certain ways you should deal with the following issue:
1. Don't expect to be best friends:
A lot of people go into the situation thinking that they will become best friends with their future roommates or become closer to their already friends. This isn't the case…only the luck few get this dream. It's like saying your going to marry the first guy you fell in love with…it's just unrealistic.
2. Try Talking:
Having an open conversation with your evil roommate may sound terrible at first, but it could help the situation. Just let her/him know that what they are doing is bothering you whether it's their boyfriend/girlfriend spending endless hours in the room….even when they aren't there or you find your favorite bag of chips keeps disappearing. Having a conversation about the issue could potentially resolve the problem or at least let them know what is bothering you. Being stuck in a small room or apartment with someone that bothers you is the worst thing ever. You feel like your walking on eggshells.
3. Reach an agreement:
Maybe your having problems with them not cleaning after themselves in the room or you're the one always stuck with bringing the trash out. Let them know you should trade off on the household chores and that you don't think it's fair. Maybe be like "Hey starting Sunday we can have a new beginning," and hopefully you will see the change. Being vocal is key.
Reach an agreement, shake, and move on. photo credit
4. Ignore them and do your own thing:
People can tell when your upset with them especially a roommate. Now this may not be the best alternative but it will allow you to feel less stressed out. Do you!
5. Go out:
Your room or house should be your home away from home. Just try and go out and meet more people. You'd be surprised that there are other people out there that might be dealing with the same situation. Maybe your best friend is lonely in her single? Just join up. But don't move in!
6. Move Out:
Sometimes friends just cannot live with each other. See if there is another place you can stay or move into.
Dealing with roommates is all situational…but the most important thing is communication. Keep those lines open just in case something occurs. Who knows you might need that awful roomie if you ever get into trouble? It's better than calling mom or dad.
What Do You Think?
Have you had roommate troubles in the past? How did you deal with it?