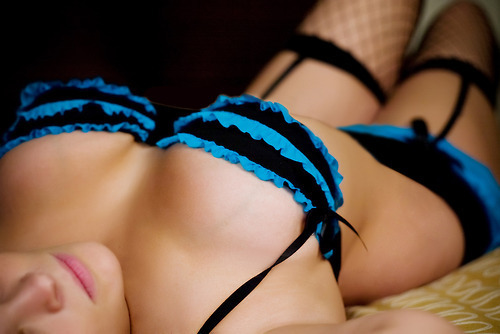 In the dead of winter, when you're bundled up in layers of sweaters and scarves, and more worried about your midterm than your makeup, sometimes it's hard to feel particularly sexy. Unlike summer, where laying out on a beach in your teeny bikini rocking a tan and those perfect beach waves can make even the shyest girl feel like a bombshell, winter has a way of really squelching our sensual side. If you're looking for a quick and easy way to feel sexy all day long, look no further. Here are my three favourite tips for an instant sexy pick-me-up:
1. Rock a New Scent
Nothing makes you feel more sexy than catching a sniff of a sultry scent on your own body. Pick up a a sexy new scent from the spring collections, like Marc Jacob's Daisy Eau-So-Fresh or DKNY Be Delicious: Juiced. If you can't afford a brand new scent, as the sales associate for some samples, they often have cute little bottles to hand out. Just say you're looking for a new scent, but want to try out a few in daily wear before you decide. If they don't have any sample, find a scent you like and spritz it on in the store, you'll still get a little extra pep in your step and if you really like it, you can save up and treat yourself later.
Another fun way to rock a new scent is to round up a few almost-empty bottles of perfume and try combining them into a new scent. Don't pour the perfumes into one bottles, the can react funny and cause some really unpleasant smells, but you can layer your scents by doing a light spritz of one, and then of another to create a custom combo that's all yours.
2. Slip on Something Sexy
Sure it's easy when it's freezing cold out to just want to grab the nearest pair of granny panties and unmatching sports bra so you can be naked a little less and pull on something warm and cozy as quickly as possible, but if you're really feeling in a sexy slump, your underthings can really give you a little extra oomph. Try putting on your spiciest bra and panty set or even treating yourself to some new, daring lingerie to don under your jeans and pullover when you're going to class. Even if you don't intend for anyone to see them, having your own little sexy secret makes it all the more exciting. And if you do have someone special to show them off to, I'm sure your partner will be more than thrilled with your sexy surprise.
3. Go Nude
This can be tricky if you have roommates, but spending more time in the buff will help you feel sexier and more comfortable in your own skin. Lock you door, ditch the pj's, and spend a night sleeping in the nude. Hate getting overheated trying to blowdry your hair in your bathrobe? Drop it and take a full view of yourself in the mirror while you blow out your hair. It might make you a little blushed at first, but the rest of the day you can feel sexy and confident strutting your stuff knowing how comfortable you are in your own skin–the sexiest thing of all!
What Do You Think?
What are your feel-sexy tricks? How do you beat the mid-winter slumps? Leave a comment and let us know!