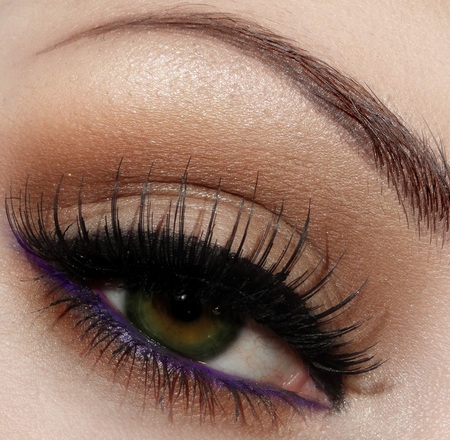 photo credit
Sure, a little mascara can go a long way. But like all makeup, it only acts as a means to enhance what you've already got. So why not take your lashes up a notch and grow them out naturally first? From serums to common ingredients in your kitchen, your eyes can have a little something extra to bat in just a few weeks.
Serum: Revitalash
This is a product I swear by, it's just like Latisse only it's more accessible and you don't need a prescription. I've been using Revitalash since high school and it is honestly one of my best kept secrets (until now!). And no, you won't experience any pigment darkening or any other crazy side effects. Just longer and stronger lashes.
I'll admit, it can get pricey, on the official Web site it retails for about $100 – but you can find it for much less on Amazon. I've found beauty stores on that site that offer it for about half the price. This product is totally worth it, I've gotten all of my friends and my mom hooked. Worth a try if you want a big boost fast!
And if you do purchase it through the official site, proceeds go to breast cancer research. (The creator originally made the serum for his wife, who was recovering from chemotherapy treatments while battling breast cancer.)
Another perk is that it's easy to use, simply apply like eyeliner once before bed. I do both my top and bottom lashes to keep them even, but others prefer just doing the top lash line.
Vaseline
Putting a thin coat of vaseline on eyelashes is actually a little beauty trick I picked up from my grandmother from back in the day. Apply a thin line at the lash line before bed. The great thing about vaseline is that it also makes your lashes a lot stronger, so if you wear a lot of mascara they will be less prone to breakage or shedding.
Any lotion with vitamin E will do the trick.
Lash accelerating mascaras
There are some great mascaras out there that also include a growth serum in the formula. For a great drugstore option, try one from Rimmel London. While they can be more expensive, you'll eventually be using less mascara when your lashes grow longer because you'll be doing a lot less plumping or reapplication.
Massaging and brushing
No, I'm serious. It works the same way with the hair follicles in your scalp. Stimulating the hair follicle with a little massage helps lashes to grow, simply do it right before you apply mascara. Brushing also works, as it helps strengthen your lashes naturally and makes them less prone to tangle, become brittle, or fall out.
What do you think?
What are ways you like to naturally enhance your lashes? Have you tried any mentioned in our list? Let us know your tips and tricks in the comments section below.