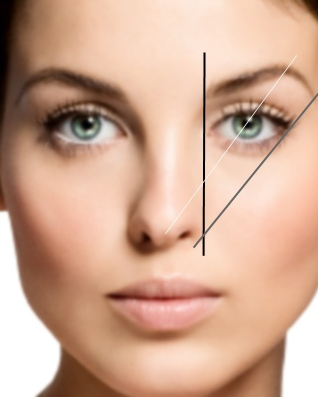 photo credit
Here's one piece of beauty advice that often falls by the wayside amongst the piles of smokey eye and nude makeup tutorials – your eyebrows shape your face. A killer brow will go further than most makeup application tricks, and a lot of it comes down to simple geometry.
What you need
A good pair of tweezers
A light shade eye pencil or eye liner (to mark your tweezing lines)
Get tweezing!
First, hold your tweezers vertically and align it with the right side of your nose, letting the top fall at the start of your brow. Mark a line where it hits. This is where your brows should begin, so if you have hairs going past the tweezer into the center of your T zone, tweeze away!
Next, align your tweezer with your right nostril, and position it diagonally so that it runs across the middle of your pupil. With the eye pencil, mark a line where it hits on your brow – this is where your arch is. Tweeze hairs underneath the arch for a more precise arch.
Finally, positioning your tweezer diagonally again, this time let it run diagonally to the corner of your eye where your eye ends. Mark this spot with the eyeliner. This is where your brow ends, so tweeze any hairs that go past that mark toward your ears.
Repeat the above steps on the opposite brow, and voila!
Whether Megan Fox arches are your thing or you like thicker Audrey Hepburn-style  brows, the tweezer lines are all the same, so the thickness is up to you. Follow along with the three lines in the picture above as you go through each step. And have no fear, these steps work with any face shape or size!
What do you think?
What are your own tricks at getting that perfect brow? Do you prefer to wax or tweeze? Share your beauty tips and tricks in the comments section below.