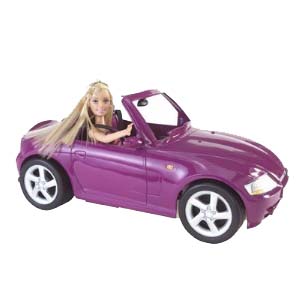 As you may have noticed, a lot of my posts focus on beauty and fashion as opposed to real life situations. However, part of being a well-informed college girl is being able to survive in real world panic situations, like a dead car battery. You can call roadside assistance, if you have it, but you may have to wait an hour or more to get a jump that would take only minutes for you to do yourself. Here's what you need to know to get rolling again:
1.      Have a pair of jumper cables in your car. They can not only save your butt, but they might help you save
someone else's. If your battery dies on the way to buying jumper cables, try to find someone who has a set of their own (cops or older people are typically responsible enough to have them, but hopefully college girls will soon consider cables as essential to keep in their car as their iPod docking station).
2.      Check your car manual, some newer models require you to hook the cable up using lugs, as opposed to clamps.
3.      Find someone with a car whose battery is not dead. Have them park it next to your car so that your batteries are as close as possible. Make sure the cars are not touching, however.
4.      Put the cars in park, turn off the ignition, and remove the keys. Now, pop the hoods.
5.      Attach a red (positive) clamp to the positive terminal on their (the fully-charged) battery.
6.      Attach the other red (positive) clamp to the positive terminal on your (the dead) battery.
7.      Ground (that is, take away any built up electricity) the black (negative) clamp by touching it to an exposed piece of metal in your car (such as a bolt).
8.      Attach the other black (negative) clamp to the negative terminal on their (fully-charged) battery.
9.      Have them start their car, and let it run for a few minutes before attempting to start yours.
10.  Start your car, and remove the clamps. Make sure you drive around and have your car running for at least half an hour before shutting it off, so that the battery has time to charge up again and you don't have to do this process all over again.
It may seem like a scary thing to be playing around with car batteries, but it's an important skill to know, especially since whoever is nice enough to jump you might not know exactly how to do it themselves. It may make you feel more confident if you have a friend or family member who already knows how to jump start a car, to have them walk you through the steps above on your car so that you're prepared in an emergency. Car suaveness, something every college girl should know.