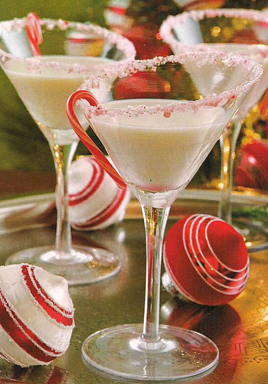 It's never too early to start thinking about Christmas – why not toast to the approaching Christmas month with a festive peppermint bark martini? It's always Christmas somewhere. This is also perfect for a Christmas movie marathon with your special someone, or best girlfriends!
What you need (serving size: 1)
1 ounce of Vanilla Vodka, frozen
1/2 ounce of Peppermint Schnapps (or white crème de menthe)
1 ounce of Godiva White Chocolate Liquor
Splash of heavy whipping cream (this is optional)
For garnish: use mini candy canes, or you can rim the glass with peppermint bark or crushed candy canes
Preparation
To chill your martini glass, fill it with ice
Fill your cocktail shaker with ice
Add the ingredients into the cocktail shaker and shake until cold
And bottoms up!
The original recipe can be found here.
What do you think?
What do you think of this drink? What are your favorite holidays? Do you have a favorite way to welcome the Christmas season? Share with us in the comments section below.