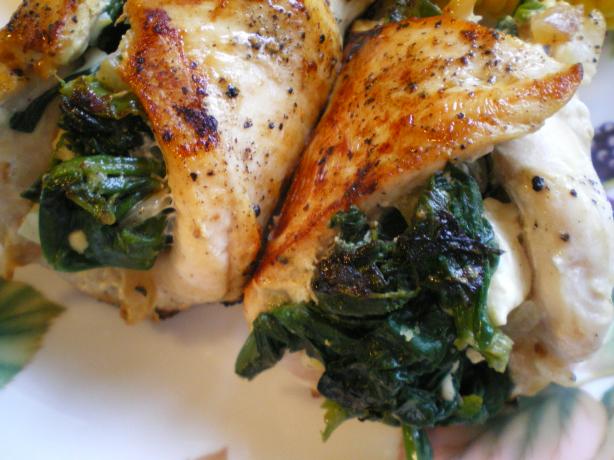 photo credit
So you're browsing recipes to make for yourself or for your loved one, and they all look great, but you're not exactly a gourmet chef and time is of the essence. Look no further than this spinach and feta stuffed chicken recipe, which can be completed in about 30 minutes and is less than 300 calories.
Original source can be found here.
What you need (serving size: 2)
 1/2 tablespoon olive oil, divided
1/2 of an onion, chopped
1/2 teaspoon of lemon juice
5 ounces of spinach
1/8 cup of crumbled feta cheese
1/2 teaspoon of table salt
1/4 teaspoon of black pepper
1/2 pound boneless skinless chicken breast
Preparation
Heat up the teaspoon of olive oil on a skillet, then add the onion and cook for about five minutes
Dampen the spinach with water, and heat over medium heat in a nonstick pan
Add in the lemon juice, feta, 1/2 teaspoon of salt and 1/4 teaspoon of pepper with the spinach and set all aside
Divide the spinach mixture between the chicken breasts
Roll and secure with toothpicks
In the same skillet as before, add the remaining olive oil and heat on medium-high, add the chicken and turning occasionally until golden brown and cooked through after about 10 minutes
Remove toothpicks and let cool
And enjoy!
This recipe can be served over a bed of fresh greens, or served with rice or potatoes.
What do you think?
Have you tried this recipe? What is your favorite quick dinner recipes? Let us know in the comments section below!