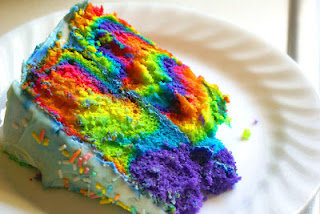 If you're a foodie or you've been on any new cooking blogs you may have noticed a surge in "rainbow" baking. Rainbow cakes are regular white cakes prepared with a special food dye technique that make the cake appear tie-dyed – normal looking frosted cake on the outside, rainbow on in the inside. Great for summer parties and birthdays, read on for a simple tie-dye rainbow cake recipe, no milk or eggs required!
What you need
2 boxes of moist white cake mix (any brand will do)
A box of food coloring (make sure you have red, orange, yellow, green, blue, and purple!)
2 twelve ounce cans of Sprite
Preparation
Pour the 2 boxes of cake mix into a large mixing bowl
Pour the Sprite into the cake mix and stir
With a measuring cup, measure out 60 ounces of the cake mix. Because there are 6 food dye colors, there is about 1.5 cups per color
Separate the 60 ounces into 6 small cups containing 1.5 cups of the mixture (one for each color)
For each of the 6 cups, put drops of the individual colors in their respective cups. One for red, orange, and so on. Stir until the color is bright
Using a regular cake pan, preferably circular, drop 2/3 of the red mix into the middle of the pan
Repeat dropping the other colors into the middle of the pan one by one. If you want to go in rainbow order, drop the orange into the middle, followed by yellow and so on until you reach purple
Bake in the oven for the instructions on the box of your cake mix, and voila!
Now you're ready to frost your cake, or leave plain if you desire. This can also be done in smaller quantities with cup cakes if you want to experiment!
What do you think?
Have you tried this recipe? What are your other favorite summer desserts? Let us know in the comments section below!