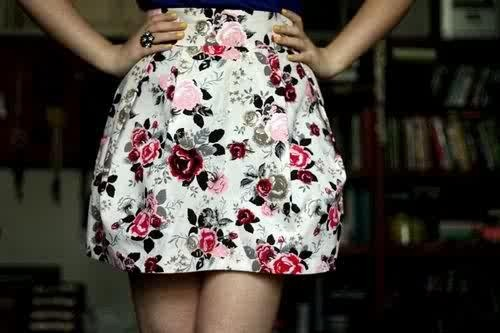 Skirts and dresses are still hot for fall, and what could be better than a cute new skirt that you crafted yourself? This project is perfect for first-timers, it's straight forward and pretty forgiving for those who aren't sewing aces just yet.
Materials:
Fabric
Safety pins
Sewing machine
Directions:
1. Figure out how long you want your skirt to be.
If you want the skirt to be high-waisted and knee-length, measure from the top of your waist where the skirt will sit to the bottom of where you want the skirt to hit, and then add 3 or 4 inches.
2. Figure out how wide you need your skirt to be.
If you want a high-waisted skirt, use a measuring tape to find out how many inches around your waist is. Double this number, then add 3 or 4 inches.
3. Choose your fabric.
For this skirt, it's best to choose something swingy and light as opposed to something stiff and heavy. I chose rayon – it's soft and swingy!
4. Lay your fabric out in one big square, so it's flat.
5. Fold the fabric in half, width-wise.
The length should remain the same!
6. Sew it together where it meets.
7. Now you should have, basically, a circle(ish) of fabric.
If you put it on now, the length will be correct, but it will be entirely too big for you. It should literally be falling off of you.
8. Put it on and hold it up where you want it to be.
Put one side of the dress on as though it fits. (Hold it there.) Stretch the other side (you'll look kind of like a weight-loss commercial!), and bring it over.
9. It will resemble a wrap skirt. Safety pin, safety pin, safety pin!
Make sure you've pulled the side tight enough that it's not going to come loose. (This is why it's good to go with a stretchy, swingy fabric.) Safety pin the sides together. Lots and lots of safety pins. (I used three.)
10. Voila!
You can play with different combinations. The good thing about making the fabric long enough for a high-waisted skirt is that you can roll the top of the fabric should you decide you want it shorter, or if you want it at your hips one day instead of your waist. You can use different pins, too. Once it's safety pinned, you can pin a pretty flower or other decoration to it.