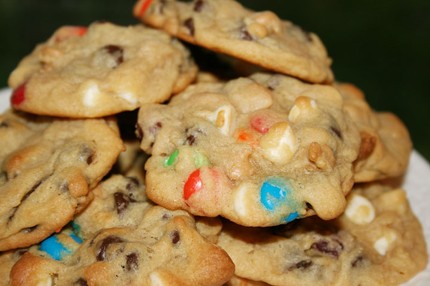 Whether you're trying to land a boyfriend, forget you don't have a boyfriend, or bake something delicious for the boyfriend you already have, this cookie recipe is a must. The secret is that it is every type of cookie concocted into one – chocolate chip, peanut butter and chocolate, M&M's, and more.
Original boyfriend cookie recipe can be found here.
What you need
One softened cup of butter
1/4 cup of white sugar
3/4 cup of brown sugar
3 1/2 ounces of instant vanilla pudding mix
2 eggs
one teaspoon vanilla extract
2 1/4 cups of flour
one teaspoon of baking soda
One cup of milk chocolate chips
One cup of semisweet chocolate chips
1/2 cup of white chocolate chips
1/2 cup of peanut butter chips
1/2 cup of M&M's, any kind you like
1/2 cup of Reese's Pieces
Preparation
Preheat your oven to 375 degrees F
In a large mixing bowl, mix together the butter and sugars
Add the pudding mix, eggs, and vanilla into the mix and stir well
Next add the flour and baking soda to the mixture, and continue to mix well
Finally, mix in the chocolate chips and the rest of the candy
With a regular spoon or a scooper, drop a spoonful of the dough onto regular ungreased baking sheets
Bake for about 10 minutes or until golden brown
Remove and cool before packaging
And bon appetit!
What do you think?
Did your boyfriend enjoy these cookies? Have you tried this recipe? What do you think? What is your favorite type of dessert to make your significant other? Let us know in the comments section below!