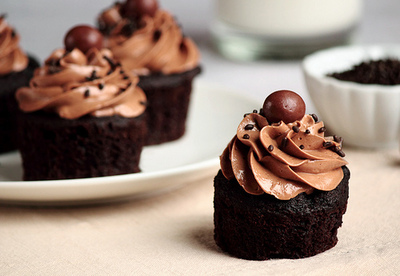 Chocolate is something that every college girl needs to have around. It is something that is a must in de-stressing from the work load, social drama, and all the other things that seem to pile up on us every day. These Chocolate Chocolate cupcakes will curb the craving and you'll be de-stressed in no time!
What you need: (serving size is 12 cupcakes)
1 stick of butter
1 cup sugar
1 cup of chocolate syrup (preferably Hershey's)
2 tablespoons of cocoa powder
4 large eggs at room temperature
1 tablespoon of vanilla extract
1 cup of flour
1 container of Betty Crocker Rich Chocolate Frosting
Directions:
Preheat the oven to 325 degrees and line a cupcake pan with paper liners
Beat together the sugar and butter until light and fluffy
Add the chocolate syrup, cocoa powder, vanilla and mix until creamy
Once it's creamy add the eggs in one by one, mix until incorporated
In another bowl put the flour and slowly incorporate the chocolately mixture
Fill each paper liner about half full with the mixture
Put them into the oven for about 30 minutes ( you want to check them at 20 minutes to make sure that you don't overcook them and make them hard)
Leave them in the pan until they cool
Take a plastic sandwich baggie and fill it with about half the container of frosting
Cut the tip of the bag off and pipe it onto each cupcake.
Leave them in the refrigerator for 10 minutes, and enjoy!
What do you think?
Have you made this reciepe? What do you think? Does chocolate help you de-stress? Are cupcakes your favorite dessert to eat? Let us know in the comment section below!