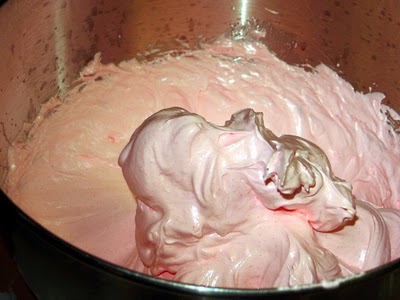 photo credit
Think of all of your preconceptions about Jello: the gelatin texture, the jiggles, the see through and sticky-finger desserts. Now throw all of those preconceptions away! Read on for a frosting recipe made from hello this is quick to make, creamy, and can be made with any flavor jello you want. Pina colada frosting, anyone?
Original recipe can be found here.
What you need (serving size: enough for 24 cupcakes, or a 9 x 13 cake)
1 egg white
1 teaspoon of vanilla
3 ounce package of Jello in your favorite flavor
2/3 cup of granulated sugar
1/2 cup of boiling water
A stand mixer with whisk attachment
Preparation (total time: about seven minutes)
Combine the egg white, vanilla, Jello mix, and sugar in a large mixing bowl (preferably glass or metal, not a plastic bowl)
Using a stand mixer, mix the ingredients together on high and add in the boiling water gradually
Continue to mix on high for five minutes until creamy
Make sure to make the same day as serving, or keep refrigerated until applied to the baked goods. Can also be used as a filling. It is also important to use a stand mixer with whisk attachment, instead of small or handheld mixers.
What do you think?
Have you tried this recipe? What are your favorite types of frosting or frosting recipes? What is your favorite Jello flavor? Let us know in the comments section below!