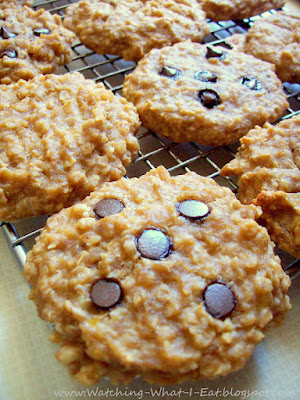 Just because we're college girls doesn't mean we can't have cookies for breakfast. Especially ones that are high in protein with no flour and are sweetened with bananas and applesauce instead of adding sugar… as we grow older, our cookie recipes mature too. Even though our breakfast of champions doesn't have to.
What you need
1 scoop of vanilla protein powder
2 ripe bananas, mashed
2/3 cup of unsweetened applesauce
1/3 cup of peanut butter (can be creamy or chunky, depending on your preference)
1 teaspoon of vanilla extract
1 teaspoon of butter flavor extract
1/4 cup of chocolate chips (this is optional!)
1/4 cup of chopped nuts (whatever your favorite kinds of nuts are)
1 1/2 cups of instant oatmeal
Preparation
Preheat your oven to 350 degrees F
In a large mixing bowl, combine the banana and peanut butter until they are mixed well, and then add in applesauce, the protein powder, the vanilla extract, and the butter flavor extract
Mix well
Add to the mixture the oatmeal and nuts, as well as the chocolate chips if you decided to add them in
On a lined cookie sheet, place a spoonful of cookie dough spaced apart in rows, and bake for about 30 minutes or until golden brown
Let cool for 10 minutes and store in a container or serve
This is a great recipe for an on-the-go breakfast snack or a pre- or post- workout snack! Also great for in between classes or for the library if you need something to tide you over.
You can see the original recipe here.
What do you think?
Have you tried this recipe? What are your favorite healthy snacks? Leave us a comment below!